Heavenly Wisdom vs Earthly Wisdom
by Mamdouh Riad
on September 22, 2015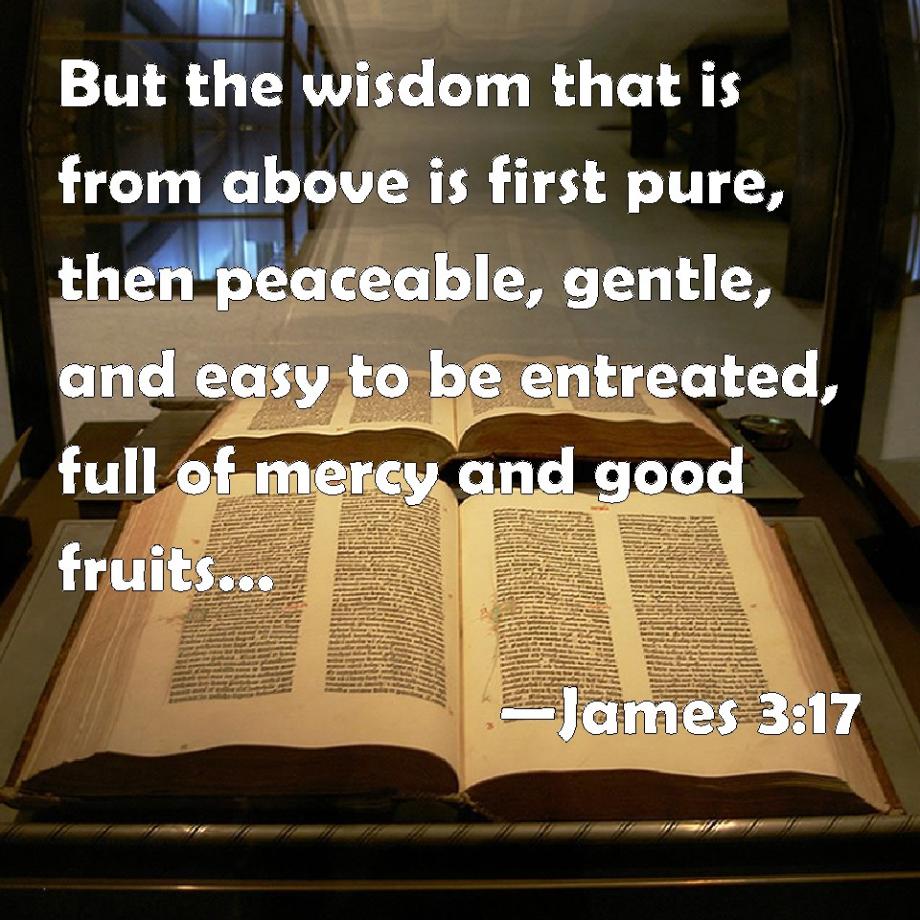 Heavenly Wisdom Vs. Earthly Wisdom
By Mamdouh Riad
" Who is wise and understanding among you? let them show it by their good life, by deeds done in the humility that comes from wisdom. But if you harbor bitter envy and selfish ambition in your hearts, do not boast about it or deny the truth. Such "wisdom" does not come down from heaven but is earthly, unspiritual, demonic. For where you have envy and selfish ambition, there you find disorder and every evil practice. But the wisdom that comes from heaven is first of all pure; then peace-loving, considerate, submissive, full of mercy and good fruit, impartial and sincere. Peacemakers who sow in peace reap a harvest of righteousness." James 3:13-18
The Scripture teaches believers to distinguish between two voices of wisdom: heavenly and earthly. It declares that heavenly wisdom is rooted in purity of heart and motives, associated with love (considerate), peace, humility (submissive), mercy, sincerity, and the fear of the Lord. "The fear of the LORD is the beginning of wisdom, and the knowledge of the Holy One is understanding" Proverbs 9:10. Following heavenly wisdom produces good fruit, and a harvest of righteousness.
Heavenly wisdom calls us to embrace it: "Wisdom has built her house, she has hewn out her seven pillars; she has slaughtered her meat, she has mixed her wine, she has also furnished her table. she has sent out her maidens, she cries out from the highest places of the city, "Whoever is simple, let him turn in here!" As for him who lacks understanding, she says to him, "Come, eat of my bread and drink of the wine I have mixed.Forsake foolishness and live, and go in the way of understanding" Proverbs 9:1-6.
The Scripture characterizes earthly "wisdom" as unspiritual and demonic. It is referred to as "wisdom" because it frames its arguments in a persuasive, seductive way that could seem logical, and may sound very convincing. Earthly wisdom is rooted in selfish ambition, envy, pride and self-preservation—the exact opposite of death to self. Listening to earthly wisdom produces disorder, division, and every evil practice.
Earthly wisdom continually entices us as well: "For she sits at the door of her house, On a seat by the highest places of the city, To call to those who pass by, Who go straight on their way: "Whoever is simple, let him turn in here"; And as for him who lacks understanding, she says to him, "Stolen water is sweet, And bread eaten in secret is pleasant." But he does not know that the dead are there, that her guests are in the depths of hell."
Proverbs 9: 14-18
Both voices call out to us, yet the Holy Spirit gives witness to our hearts to distinguish between the two, if we listen:
"And when He brings out His own sheep, He goes before them; and the sheep follow Him, for they know His voice. Yet they will by no means follow a stranger, but will flee from him, for they do not know the voice of strangers….. My sheep hear My voice." John 10: 4,5,27.


back