John 17: Oneness in the Body of Christ
by Diane Bickle
on January 21, 2020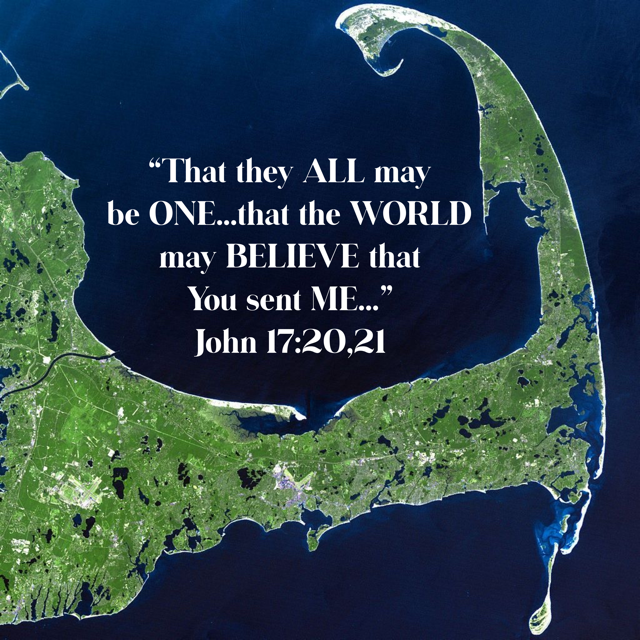 In Acts 20:23 the apostle Paul said, "The Holy Spirit testifies in every city that bonds (difficulties) await me in Jerusalem."
What that means is that as Paul traveled in ministry from city to city, the believers in every city that he traveled to, had a collective witness of the Holy Spirit in their hearts (They had a strong sense from God) that when he goes to Jerusalem he will face difficulties .
Similarly, a lot of the things that the Holy Spirit stirred us with on Cape Cod, He is stirring many others in the body of Christ across the globe. Sometimes, the Holy Spirit even stirs His people with the same spiritual language.
In addition to the recent example all the way from Israel, from Rick Ridings in Jerusalem, to last month's email from Pastor Ed de la Cour containing a video about a similar movement in Asia, and the recent exhoration from sister Mari Williams, here is another short clip from yet another source in Kansas City, Diane Bickle of the International House of Prayer. In it she shares some of the same things mentioned by others in the videos above. Thes e are the same things that the Lord has been increasingly emphasizing to our hearts this season for Cape Cod.

The Holy Spirit is testifying the same thing to many hearts across the globe.

The Scriptures contrasts for us people and generations who understood what God was saying to them and trying to do in their midst, and people and generations who didn't. It characterizes the sons of Issachar in 1 Chronicles 12 as having understood their times and knew what Israel ought to do. Daniel understood his times. In Daniel 9 he recognized that the time of the Babylonian captivity had come to an end. In contrast, Jesus wept over Jerusalem in Luke 19 because they did not understand the time of their visitation.

What an opportunity for us to recognize what God is doing and saying, and respond to Him, and what a loss to miss the time of our visitation.

Here is Diane Bickle's short video clip from November 2019:

https://www.youtube.com/watch?v=bsAnjuBqdTk
back