No Revival Without the Spirit of Prayer
by Charles Fenney
on April 26, 2016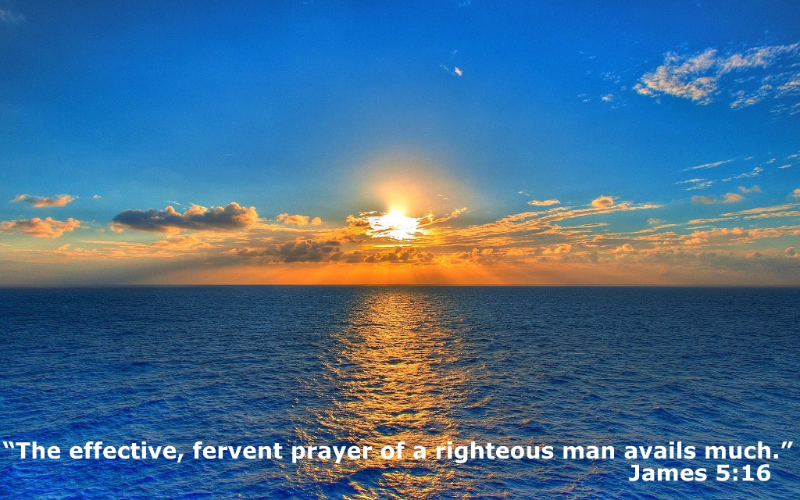 No Revival Without the Spirit of Prayer
By Charles Fenney
There are two kinds of means requisite to promote a revival: the one to influence men, the other to influence God. The truth is employed to influence men, and prayer to move God. When I speak of moving God, I do not mean that God's mind is changed by prayer, or that His disposition or character is changed. But prayer produces such a change in us it renders it consistent for God to do as it would not be consistent for Him to do otherwise. When a sinner repents, that state of feeling makes it proper for God to forgive him. God has always been ready to forgive him on that condition, so that when the sinner changes his feelings and repents, it requires no change of feeling in God to pardon him. It is the sinner's repentance that renders His forgiveness proper, and is the occasion of God's acting as He does.

So, also, when the children of God pray fervently they are in the right inner condition to enable God to hear them. He was always prepared to bless those who have a right heart attitude and who pray in the right way.

Prayer is in a chain of causes which lead to a revival, and is a cause which is as important as the proclamation of the truth. Many zealously preached the gospel to cause people to turn around but have laid too little weight on prayer. They preached eagerly, talked to individuals, and handed out leaflets but, to their surprise, with little success. The reason why they could not achieve more was because they neglected the other form of support, which is fervent prayer. They forgot that the truth itself has no effect without the Spirit of God.

Sometimes it happens that those who are mostly involved with the spreading of the truth do not dedicate themselves to prayer in the same proportion. This is terrible unless they have a spirit of prayer, or unless someone else upholds them in prayer; otherwise, the preaching of the Truth only strengthens the heathen in their unrepentant attitude.

"In this Revival, as in previous ones, a sincere spirit of prayer prevailed. We had prayer meetings in different houses every day at 11 o'clock. I remember that in one of these meetings a Mr S., who was a teller in the town bank, was so burdened by the spirit of prayer that after the meeting was finished (we had all knelt while we prayed) he was not able to get up off his knees.
He stayed on his knees weeping in agony for souls. He said "Pray for Mr.....", who was the director of the bank where he worked. The director was a wealthy, unconverted man.
When the others saw that his soul suffered birth pains for this man, the others knelt down and wrestled in prayer for his conversion. As soon as Mr S.'s mind was peaceful enough that he could go home, we all withdrew; soon afterwards the bank director expressed his hope in Jesus Christ. Until then, I think, he had never been to any meetings, and it was not known that he was ever concerned about his salvation. But prayer took over and soon God took the case in His hands".
This remark was made by Finney in connection with his account of the Revival in Troy, which began in 1826 in his "Memoirs" (London, 1876, pages 104-5).

A revival may be expected when Christians have a spirit of prayer for a revival. That is, when they pray as if their hearts were set upon it. Sometimes Christians are not engaged in definite prayer for a revival, not even when they are warm in prayer.
Their minds are upon something else; they are praying for something else - the salvation of the heathen and the like - and not for a revival among themselves. But when they feel a want of revival, they pray for it; they feel for their own families and neighbourhoods; they pray for them as if they could not be denied.

What constitutes a spirit of prayer? Is it many prayers and warm words? No. Prayer is the state of the heart. The spirit of prayer is a state of continual desire and anxiety of mind for the salvation of sinners. It is something that weighs them down. It is the same, so far as the philosophy of minds is concerned, as when a man is anxious for some worldly interest. A Christian who has this spirit of prayer feels anxious for souls. It is the subject of his thoughts all the time, and makes him look and act as if he had a load on his mind. He thinks of it by day, and dreams of it by night. This is properly "praying without ceasing". His prayers seem to flow from his heart liquid as water: "O Lord, revive thy work!"

Sometimes this feeling is very deep; persons have been bowed down so that they could neither stand nor sit. The feeling is not always as great as this, but such things are much more common than one would expect. In the great Revivals in 1826, they were common. This is by no means enthusiasm. It is just what Paul felt when he said: "My little children, of whom I travail in birth..."

This travail of soul is that deep agony which persons feel when they lay hold on God for such a blessing and will not let Him go until they receive it. I do not mean to be understood that it is essential to a spirit of prayer that the distress should be so great as this. But this deep, continual, earnest desire for the salvation of sinners is what constitutes the spirit of prayer for a revival.

When this feeling exists in a church, unless the Spirit is grieved away by sin, there will infallibly be a conversion of sinners to God. This burning desire increases more and more until revival comes...

Generally there are but few professors of religion that know anything about this spirit of prayer which prevails with God. I have been amazed to see such accounts as are often published about revivals, as if the revival had come without any cause - nobody knew why or wherefore. I have sometimes inquired into such cases, when it had been given out that nobody knew anything about it, until one Sabbath they saw in the face of the congregation that God was there; or they saw it in their conference room, or prayer meeting, and were astonished at the mysterious sovereignty of God in bringing in a revival without any apparent connection with means.

Now mark me! Go and inquire among the obscure members of the church, and you will always find that somebody had been praying for revival, and was expecting it - some man or woman had been agonising in prayer for the salvation of sinners until the blessing was gained. This person perhaps woke everyone out of their sleep so that they jumped up, rubbed their eyes, and could not quite understand where the sudden excitement came from. Even if only so few know of the responsibility of a revival, you can be assured that someone held watch on the tower and did not cease with begging until the blessing was there. Generally, a revival is more or less extensive, as there are more or less persons who have the spirit of prayer.
back