Pastor Emile Samuel on Cape Cod
by anonymous
on June 14, 2007
And He Himself gave some to be apostles, some prophets, some evangelists, and some pastors and teachers, for the equipping of the saints, for the work of the ministry, for the edifying of the body of Christ. Ephesians 4:11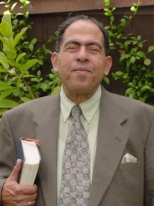 Pastor Emile Samuel is an Assemblies of God pastor currently based in Vancouver, Canada and associated with Watchmen for the Nations ministry. He grew up in Egypt where he pastored two Assemblies of God churches in two cities in Egypt over a period of 20 years. During that time the Lord used him powerfully in prophetic ministry and those who have had the opportunity to be around him and be ministered to by him recognized him as a prophet of God.
In the early nineties the Lord opened the door for international ministry to Pastor Emile. He ministered extensively in the US, Canada, England, France, Switzerland, Germany, Israel, Singapore, Russia, Kenya, and Australia. The Lord led pastor Emile to leave the pastorate and relocate to Canada from where an interant ministry developed.
He believes the Lord has called him to inspire, exhort and prepare the Body of Christ for such a time as this, as the Spirit of the Lord is moving on the hearts of His people worldwide calling them to wholeheartedness, holiness and a return to their first love: A time when Christ is preparing a spotless and blameless bride for Himself.
His speaking schedule is the following:
Wednesday July 11, at 7 pm: First Light Church in Chatham, MA.
Sunday July 15th th at 10:30 am and 6:30 pm: MidCape Assemblies of God in Dennisport, MA.
Thursday July 19th at 7pm : New Life Christian Center in Dennisport, MA.
---
back