Pastor Emile Samuel's Prophetic Ministry on Cape Cod, June 18-21, 2015
by The Glory of God on Cape Cod
on June 20, 2015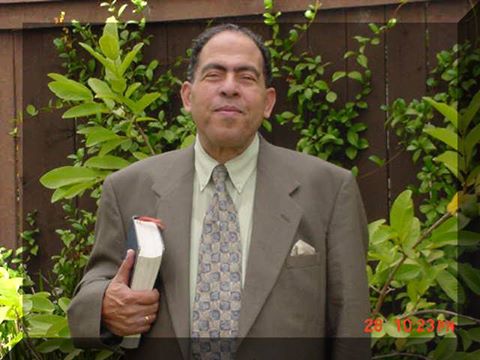 Pastor Emile Samuel's Prophetic Ministry on Cape Cod, MA
June 2015
"And He Himself gave some to be apostles, some prophets, some evangelists, and some pastors and teachers, for the equipping of the saints, for the work of the ministry, for the edifying of the body of Christ" Ephesians 4:11

" And God has appointed these in the church, first apostles, second prophets, third teachers, after that miracles, then gifts of healing, helps, administration, varieties of tongues." 1 Corinthians 12:28

Pastor Emile Samuel will be returning to Cape Cod for the 17th year, to minister in June 2015. He is an Assemblies of God Pastor currently based in Vancouver, Canada
(See his bio below and an article on the New Testament gift of prophecy)

The Lord uses Him strongly in the New Testament gift of prophecy, and he is recognized by those who know him as a man called by the Lord with a genuine New Testament prophetic ministry . We invite you to come attend Pastor Emile's services. We believe this will be a refreshing and blessing time for you.

He will be speaking on a different biblical topic each meeting and minitering propheticaly as the Lord leads.

The following is his speaking schedule:

Thursday June 18, at 7 pm: Church of the Redeemer,
2736 Falmouth Rd, Osterville, MA.
http://www.redeemercapecod.org
, Rev.Dr. John-Paul Lotz 508-888-5486
Saturday June 20, at 7:30 pm: Brazilian Assembly of God, 941 Mary Dunn Rd, Hyannis, MA
http://www.aghyannis.com, Pastor Dennis DaSilva 508-778-4442

Sunday June 21, at 10 am: First Baptist Church, 298 Barlows Landing Rd, Pocasset, MA

http://www.pocassetbaptist.org, Pastor Ed de la Cour 508-563-3164

Sunday June 21, at 7 pm: Mid-Cape Worship Center, 142 Depot Street, Dennisport, MA

http://www.midcapeag.org, Pastor Henry Perry 508-394-2345


Biography:

Pastor Emile Samuel is a prophetic minister currently based in Vancouver, Canada, and associated with "Watchmen for the Nations" ministry. He grew up in Egypt, where he pastored 2 different Assemblies of God churches in 2 different cities in Egypt over a 20 years period. During that time the Lord used him powerfully in prophetic ministry and those who have had the opportunity to be around him and be ministered to, began to recognize him as man with a genuine New Testament prophetic gift. In the early nineties, the Lord opened the door of International ministry to Pastor Emile, where he ministered extensively in the US, Canada, England, France, Switzerland, Germany, Israel, Singapore, Russia, Kenya, Hong Kong, China, Malaysia, and Australia. Recipients of his ministry recognized him as a prophet of God. The Lord had called pastor Emile to leave the pastorate, be based in Canada, and minister where the Lord would lead him. Pastor Emile's heart is to exhort and prepare the body of Christ for such a time like this, as the Spirit of the Lord is moving on the hearts of His people worldwide, calling His bride to wholeheartedness, holiness, and a return to their first love. A time when Christ is preparing a spotless and blameless bride for Himself.
***************************************************************************
The New Testament Gift of Prophecy

To put things in perspective, spiritual gifts are not the most important thing in our walk with Christ. The true measure of a person's life in Christ is to love the Lord with a sincere heart and to walk in holiness and obedience (1 Cor. 13). However, this article specifically addresses the subject of New Testament prophecy.

Prophecy is "forth telling" the mind of God. It is God sharing and communicating what is on His heart with an individual and that individual subsequently articulating what the Lord put on his heart. The fact that God speaks to His creation, particularly to His people, is a solid Biblical principle. Jesus said, "My sheep hear My voice" (John 10:27). While God primarily speaks to us through the Scriptures, to which nothing can be add added or subtracted, He sometimes speaks to us through the "witness of the Holy Spirit" to our hearts. "The Spirit Himself bears witness…" (Rom 8:16).

A.W. Tozer articulated this concept well in his classic The Pursuit of God, chapter six, "The Speaking Voice":

"I believe that much of our religious unbelief is due to a wrong conception of and a wrong feeling for the Scriptures of Truth. A silent God suddenly began to speak in a book and when the book was finished lapsed back into silence again forever. Now we read the book as the record of what God said when He was for a brief time in a speaking mood. With notions like that in our heads how can we believe? The facts are that God is not silent, has never been silent. It is the nature of God to speak. The second Person of the Holy Trinity is called the Word."

In many conservative, non-charismatic circles, the phenomenon of God speaking to us is often described as a "burden" or a "heart stirring". In Charismatic/Pentecostal circles it is often described as "God told me" or "a prophetic word". Unfortunately, this has been overdone by some, resulting in many Christians, both non-charismatic and charismatic, being burned by negative experiences. They are at best cautious with anything that sounds remotely "prophetic" or downright skeptical and suspicious. Perhaps because all they have seen is the fake and the negative, and have not seen the real, authentic New Testament demonstration of the biblical gift of prophecy.



As you know the Bible speaks of two levels of prophecy

: simple prophecy and the specific calling to prophetic ministry.

A simple prophecy

is anyone hearing God's voice as mentioned above (John 10:27, Rom. 8:16) and articulating it, what Paul refers to in "For you can all prophecy

...

" 1 Cor 14:31



The second level is the specific calling to prophetic ministry

described

in the Bible. "And God has appointed these in the church; first apostles, second prophets, third teachers, after that miracles, then gifts of healing, helps, administration, varieties of tongues."
(1 Cor. 12:28).
"And He Himself gave some to be apostles, some prophets, some evangelists, and some pastors and teachers, for the equipping of the saints, for the work of ministry, for the edifying of the body of Christ…" (Ephesians 4:11).
This was demonstrated by Agabus in the book of Acts when he prophesied future events: "And showed by the Spirit that there was going to be a great famine throughout the world..." (Acts 11:28). He also prophesied about Paul's difficulties in Jerusalem (Acts 21:11).

Once again, to put things in perspective, the scriptures describes the true prophet's role as primarily expressing the heart of God and turning the hearts of the people towards Him (not merely or even primarily prophesying future events). It also characterizes false prophets as those who primarily make people comfortable with sin and compromise (Deut 13:1-5, Jeremiah 23:14). With that in mind, those who God uses in prophetic ministry speak the Rhema word of God (God's heart for the "Now"), and one of its primary purposes that the Lord uses it for, is to encourage and sustain His people in times of their weariness. So the prophetic fuels our journey and resolve, sustains our prayer life, and infuses us with hope and encouragement to continue running our race with Christ. This occurs both on an individual and corporate level. Many of us have experienced that on occasion, where we were the recipient of a timely prophetic word which could only have been supernatural and that brought great encouragement to our hearts and strengthened us in the Lord.

This is described in Jesus's ministry by Isaiah's prophecy, "That I should know how to speak a word in season to him who is weary" (Isaiah 50:4).
The Lord encouraged weary Israel during its Babylonian captivity by telling them through Jeremiah, "For I know the thoughts that I think toward you, says the Lord, thoughts of peace and not of evil, to give you and future and a hope" (Jer. 29:11).The Lord encouraged Israel again when they were discouraged in their post-exile period through Haggai: "Is this not in your eyes as nothing? Yet now be strong ….for I am with you…The glory of this latter temple shall be greater than the former…" (Haggai 2:3, 4, 9).This is why the New Testament says, "He who prophesies speaks edification and exhortation and comfort…" (1 Cor. 14:3). This is not the definition of prophecy; it is the end result of it.

Far from fortune telling, still sometimes the Lord shares with His people what's on His mind regarding things to come. This is a theme that runs throughout both the Old and New Testament. There are many examples of this in the Scriptures:

God told Abraham about what He intended to do with Sodom and Gomorrah and said, "Shall I hide from Abraham what I am doing?" (Gen.18:17).God also told Abraham about the future of his descendants, their slavery in Egypt, and their subsequent deliverance. "Then He said to Abram; 'Know certainly that your descendants will be strangers in a land that is not theirs, and will serve them, and they will afflict them four hundred years. And also the nation whom they serve I will judge; afterward they shall come out with great possessions. Now as for you, you shall go to your fathers in peace; you shall be buried at a good old age." (Gen.15: 13-14).God told Joseph what He intended to do in Egypt by giving him the interpretation of Pharaoh's dream. "God has shown Pharaoh what He is about to do." (Gen. 41:25).
As a result, they took action that saved not only Egypt at the time, but also God's people.

God also told Jeremiah about the Babylonian captivity. "Therefore thus says the Lord of hosts: 'Because you have not heard My words, behold I will send and take all the families of the north, says the Lord, and Nebuchadnezzar the king of Babylon, My servant, and will bring them against this land, against its inhabitants, and against these nations all around..." (Jer. 25: 8, 9).

God showed Isaiah Israel's release from the Babylonian captivity and gave him even the name of the heathen king who would do it. "Thus says the Lord to His anointed, to Cyrus, whose right hand I have held, to subdue nations before him, and loose the armor of kings, to open before him the double doors, so that the gates will not be shut: I will go before you and make the crooked places straight; I will break in pieces the gates of bronze and cut the bars of iron. I will give you the treasures of darkness and hidden riches of secret places that you may know that I, the Lord, who call you by your name, am the God of Israel" (Isaiah 45:1-3). God showed Ezekiel His intentions with many nations: Ammon, Moab, Edom, Philisia, Tyre, Sidon, and Egypt (Ezekiel 25, 26). God showed Daniel in dreams many things to come, including kingdoms that would come and go and even the second coming of Christ (Daniel chapters 2, 9, 10). God told Amos, "Surely the Lord God does nothing, unless He reveals His secret to His servants, the prophets" (Amos 3:7).

In the New Testament, Jesus told His disciples what was about to come. "And Jesus answered and said to them: 'Take heed that no one deceives you. For many will come in my name, saying, 'I am the Christ', and will deceive many. And you will hear of wars and rumors of wars. See that you are not troubled, for all these things must come to pass, but the end is not yet. For nation will rise against nation, and kingdom against kingdom. And there will be famines, pestilences and earthquakes in various places" (Matt. 24:4-7). Jesus told the disciples that the Holy Spirit would tell them things to come, " However when He, the Spirit of truth has come, He will guide you into all truth: for He will not speak on His own authority, but whatever He hears, He will speak; and He will tell you things to come" (John 16:13).

A good portion of the book of Revelation is God showing John the end times and things that have yet to come to pass.

The New Testament speaks of "prophets" and "prophecy" in the church in the same sense—not merely exhortation and encouragement, but also telling of things to come.



Needless to say, New Testament prophets and prophecy do not add new doctrine or theology; they simply speak the word of God for the present situation, the Rhema word of God for the "now".

"As they ministered to the Lord and fasted, the Holy Spirit said, "Now separate to me Barnabus and Saul for the work to which I have called them" (Acts 13:2).

"And in these days, prophets came from Jerusalem to Antioch. Then one of them, named Agabus, stood up and showed by the Spirit that there was going to be a great famine throughout all the world, which also happened in the days of Claudius Caesar" (Acts 11:27-28). By heeding the Rhema word of the Lord for their present situation, the disciples acted. "Then the disciples, each according to his ability, determined to send relief to the brethren dwelling in Judea" (Acts 11:29).
The Lord also showed Agabus, a New Testament prophet what was about to happen to the apostle Paul. "And as we stayed many days, a certain prophet named Agabus came down from Judea. When he had come to us, he took Paul's belt, bound his own hands and feet, and said, 'Thus says the Holy Spirit, so shall the Jews at Jerusalem, bind the man who owns this belt, and deliver him into the hands of the Gentiles" (Acts 21: 10, 11).
The Lord showed the Apostle Paul things to come: "And now I urge you to take heart, for there will be no loss of life among you, but only of the ship. For there stood by me this night an angel of the God to whom I belong, and whom I serve, saying, 'Do not be afraid Paul; you must be brought before Caesar; and indeed God has granted you all those who sail with you" (Acts 27:22-24).

The New Testament says God places prophets in His church: "And God has appointed these in the church; first apostles, second prophets, third teachers, after that miracles, then gifts of healing, helps, administration, varieties of tongues" (1 Cor. 12:28). "And He Himself gave some to be apostles, some prophets, some evangelists, and some pastors and teachers, for the equipping of the saints, for the work of ministry, for the edifying of the body of Christ…" (Eph.4:11).

New Testament prophecy is supernatural knowledge that God chooses to give to certain individuals on certain occasions. "But if all prophesy, and an unbeliever or an uninformed person comes in, he is convinced by all, he is convicted by all. And thus the secrets of his heart are revealed; and so, falling down on his face, he will worship God and report that God is truly among you" (1 Cor. 14: 24-25). This is similar to the Samaritan woman's response to her encounter with Jesus when He supernaturally told her things about her life. "The woman answered and said, 'Sir, I perceive that you are a prophet'" (John 4:19). Her response was not only to come to faith but also to tell others. "Come; see a Man who told me all things that I ever did. Could this be the Christ?" (John 4:29).
This is also similar to Jesus' encounter with Nathaniel. "Nathaniel said to Him, 'How do you know me?' Jesus answered and said to him, 'Before Philip called you, when you were under the fig tree, I saw you'. Nathaniel answered and said to Him, 'Rabbi, You are the Son of God! You are the King of Israel!" (John 1:48).

Many of us have witnessed first hand this effect on the hearts of recipients of genuine, New Testament prophetic ministry, both among believers and nonbelievers. Their hearts typically move towards the Lord as they encounter God as real and One who knows them by name and knows their every thought. Many of us have witnessed unbelievers come to Christ as a result of the New Testament gift of prophecy
(1 Cor. 14:24-25).

Recipients of genuine New Testament prophecy have found its fruit in their lives has been to encourage them, build their faith, and draw them closer to Christ. It is one of the manifestations of the glory of God in His church.

Many of us have also received supposed "prophecies" which, upon prayerfully examining them, we felt that they were perhaps well- intentioned but not genuine words of the Lord. Perhaps at times we also have received a supposed "prophetic word" that did not resonate in our hearts. "Do not despise prophecies. Test all things; hold fast to what is good" (1 Thess. 5:20-21).

There is the genuine, and there is the counterfeit. The Bible exhorts us to test New Testament prophecies, but in the same breath it urges us not to despise them. In fact twice in 1 Corinthians 14 we are encouraged to embrace and even desire New Testament prophecy (1 Cor 14: 1, 39).

We have had the opportunity to know an Assemblies of God pastor for 30 years who has the genuine New Testament gift of prophecy, and the fruit of his ministry is to bring glory to Christ and bring people to Him. We have also attended conferences where other ministers with the gift of prophecy have shared, and the fruit of it was glorifying to God. "For the testimony of Jesus is the Spirit of prophecy" (Rev. 19:10).

back