Rediscovering the Power of Corporate Prayer
by Pastor Bill Bishop
on April 25, 2017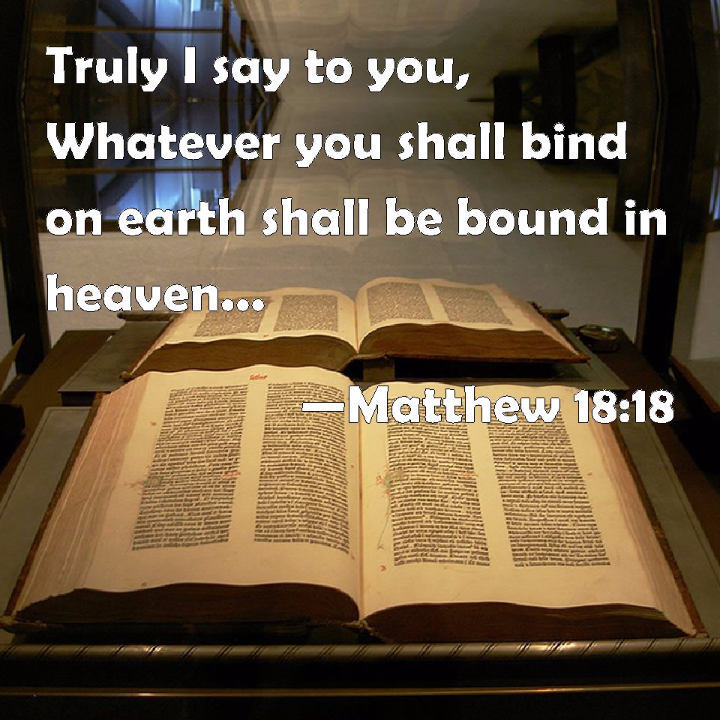 Similar to last week's article by Watchman Nee, the article below also looks at how God, in His sovereignty, chose to make His people co-laborers with Him. One of the ways that is manifested is that many times He chooses to give birth to His purposes through the prayers of His people. This is why past revivals were historically preceded by united prayer. Such perspective underscores the enormous opportunity and privilege that we have, in coming together in one heart and one mind, in one accord, at our united multi-church monthly prayer meetings. It also underscores the perils of giving room to division, and of neglecting the pursuit of unity and united corporate prayer. To the extent we are united or divided, we either have or lack the spiritual authority that God would give us.


REDISCOVERING THE POWER OF CORPORATE PRAYER
By Pastor Bill Bishop
In Matthew 18:18-20, Jesus reveals that a powerful and profound thing happens when even a very small number of people in the church are united in prayer.

Five Foundational Truths that Serve as the Basis for Corporate Prayer
1. Heaven Waits for Earth to Move
"There must be a move on earth before there is a move in heaven. It is not heaven that binds first but the earth. It is not heaven that looses first but the earth."
WATCHMAN NEE, "THE PRAYER MINISTRY OF THE CHURCH," p. 8
Scripture reveals that God waits on His people to pray before He will act!
* Ezekiel 22:30, Jeremiah 33:3, Psalm 107
Jesus told his disciples "Ask, Seek, and Knock" and heaven would answer!
"Man has been given power to make way for, or to obstruct the power of God."
WATCHMAN NEE, "GATHERED IN HIS NAME," p. 141
* Isaiah 59:1, 2 (The Message)
In Nazareth, Jesus' power was restricted and limited by unbelief.
"How greatly restricted is heaven by earth!"
WATCHMAN NEE, "GATHERED IN HIS NAME," p. 15
When Heaven is silent and God is not moving mightily it always comes down
to a failure on the earth and in the church to pray!
* Isa. 64:7- "No one calls on your name or strives to lay hold of you."
Elijah had to build the altar and pray first before there was fire and rain from heaven!
"The aim of the prayer meeting is to get heaven open and the glory down."
P.F. BRESEE

2. The Meaning and Significance of "Binding" and "Loosing"
The words binding(deo) and loosing(luo) are in the perfect tense in the original giving them a very significant meaning. (Rev. 20:2; Rev. 5:2; I John 3:8)
"Truly I tell you, whatever you forbid and declare to be improperand unlawful on earth must be what is already forbidden in heaven, and whatever you permit and declare proper and lawful on earth must be what is already permitted in heaven."
Matthew 18:18 (Amplified Bible)
The ministry of the church is to pray that everything contrary to God's will in heaven is bound on earth and everything in harmony with His will is released in the earth!

"True prayer begins at the heart of God, is made known to the hearts of men, is
prayed back to God again, and God answers. This is more than a definition; it is, I
believe, the principle of God's working in the universe."
WATCHMAN NEE, "GATHERED IN THE NAME," p. 140
Prayer originates in God's heart and is revealed to the Church through the Holy Spirit: Romans 8:26-27 and Colossians 1:9.
Jesus taught his disciples to pray simply, "your kingdom come, your will be done on earth as it is in heaven."(Matt. 6:10)
"God shows what He wants, we stand and ask, and God acts from heaven: this is true
prayer, and this is what we must see fully expressed in our prayer meetings."
WATCHMAN NEE, "GATHERED IN THE NAME," p. 143

When the church prays together the real focus should be on what is in God's heart—that,His Kingdom, His Power, and His Glory be released and revealed on earth as it is in heaven!
"Real prayer, truly, is full of intense desire, but it just as
intensely seeks to know the divine will."
P. F. BRESEE
"This is the confidence we have in approaching God: that if we ask anything accordingto his will, he hears us. And if we know that he hears us—whatever we ask—we know that we have what we asked of him." ~1 John 5:14-15
3. A Praying Church is Heaven's Outlet of Power on the Earth
"She (the church) is to be heaven's outlet, the channel of release for heaven's power,
the medium of accomplishment of God's purpose. Many things have accumulatedin heaven because God has not yet found His outlet on earth;the Church has not yet prayed."
WATCHMAN NEE, "GATHERED IN THE NAME," p. 143
* Acts 1:8 Jesus said: "You (the church) will receive power…"
* According to Jesus, two believers united in prayer is a powerful force on the earth!
The Bible speaks of the power of 2 or 3 to accomplish God's will.
* Aaron and Hur kept Moses' hands up and won the battle (Exodus 17:9-16)
* Two are better than one (Ecclesiastes 4:9-12)
* Jesus sent his disciples out two by two and gave them power and authority (Luke 9 and 10)
* Paul and Silas chained together in a prison cell experienced the power of two praying in agreement (Acts 16)
Sadly, the most common reason for why pastors and churches stop having prayer meetings is because of small numbers in attendance!
God likes to display His great power through small numbers of people, just ask Gideon:
"But the Lord said to Gideon, 'There are still too many men…" (Judges 7:4)
"The church is to secure for God the release of His power into the world…-
I speak reverently -"
WATCHMAN NEE, "GATHERED IN THE NAME," p. 142
"Now to him who is able to do immeasurably more than all we ask or imagine, according to his power that is at work within us, to him be glory in the church…"
Ephesians 3:20

4. Unity Precedes Prayer
* The context of Jesus' words in Matthew 18:18-19 is church unity.
* Jesus' teaching about praying for God's kingdom to come is quickly followed by the focus on forgiving those who have sinned against us.
* Nearly everywhere that prayer is mentioned in the New Testament the need for love, unity, and forgiveness is near by.
The Greek word for agree is symphonesis (meaning to be in harmony or agreement) from the root phone(o), to make sound, speak, voice.
* Matthew 18:19 (Amplified)
The unity and agreement among believers is the key to God's kingdom, power and glory being released in the church.
We see the emphasis on unity throughout the Word:
* Romans 15:5-7, 1 Timothy 2:8, 1 Corinthians 1:10, Philippians 4:2
If members of the body are not in unity (practicing love, acceptance, forgiveness) they will never agree in prayer and without prayer they will never fully experience the outpouring of the Holy Spirit!
Acts 2 speaks of a corporate outpouring of the Holy Spirit because of corporate unity about waiting on God in prayer. God wants to do this again!
Speaking of Pentecost and the Spirit, A. W. Tozer said:
"He did not come to bring them into oneness of accord; He came because they were already so. The Spirit never comes to give unity (though His presence certainly aids and perfects such unity as may exist). He comes to that company who have, through repentance and faith, brought their hearts into one accord."
A.W. TOZER, "THE PATHS OF POWER,"
*Acts 4:24, 31
* Jesus expressed His will in John 17- "May they be brought to compete unity to let the world know that you sent me…"
*Joshua 6 is a model of what God desires to do in and through the Church- "when the people gave a loud shout, the wall collapsed…" (Joshua 6:20)
"Nothing more surely marks the sad condition of churches in this
country than the absence of the Christian Amen."
P.F. BRESEE

5. Only Through Corporate Prayer are we Given the Promise of Jesus' Manifest Presence
* The power of being "gathered in Jesus' name" rather than just coming to church
* Matt. 18:20 (Amplified)
The church needs to shift the focus from trying to figure out how to attract people, to seeking to attract God's presence to our gatherings.
"We have many methods and plans about how to make people feel welcome
in the church. Many of these methods are successful in drawing people, but
are they drawing the presence of Lord? The presence of Jesus always has
been and always will be what is most attractive for hungry people. For
long-term success, we must build something that attracts His presence."
RONDA HUGHEY, "DESPERATE FOR HIS PRESENCE

"We must have Him. Let our cry and effort be heavenward, until thewindows are opened and the fullness of His glory manifested."

P. F. Bresee
back