Report on the December GOGCC Prayer Meeting at Mid-Cape Worship Center
by Henry Perry
on December 15, 2017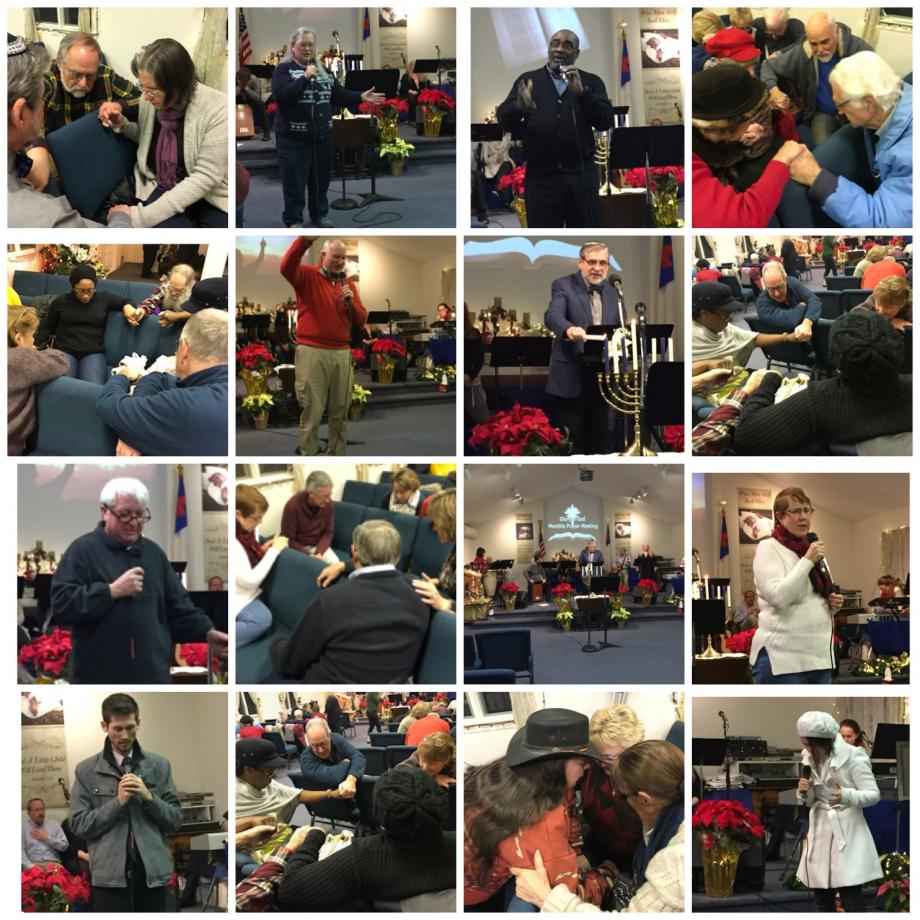 Dear brothers and sisters,
Thank you all for coming to pray with us last night. Despite the cold weather, many of you came to pray together and we had a wonderful evening. We had representatives from Cape Cod Bible Alliance, Christ Chapel, First Baptist Church of Pocasset, Gateway Christian Center, Grace Church of East Dennis, Heritage Christian Church, Lighthouse Christian Fellowship, Marstons Mills Community Church, and New Life Christ Center. We all had a great time of worship and prayer together for revival on Cape Cod.
After a fervent time of worship led by our youth group, Dr. Riad started the meeting by reminding us of God's pattern in the Bible to choose the weak and the foolish to display His glory through them. He chose David among his brothers, Nazareth ("Can anything good come out of Nazareth?" John 1:46) to bless her with Jesus growing up there and to be called a Nazarene, and He displayed His glory through Gideon's small army. Cape Cod is one of the least evangelical part of the country with 1.5% born again Christians. It is very much like God to display His glory here, and is no surprise that He stirred with this vision of His glory on the Cape 13 years ago.
I then shared about how God manifested His Shekinah glory to us in many ways in the Bible, to Moses in the burning bush, to Israel in the fire and pillar of cloud, and in the cloud of glory that filled the temple. This season we celebrate the birth of Jesus, in whom we see the most manifestation of God's glory in the Bible. We also see God's glory at pentecost, when God poured His Spirit on the disciples of Jesus in the book of Acts. Not only does God reveals His glory to us, but He wants us to be touched and changed by it, He wants us to share in His glory."But we all, with unveiled face, beholding as in a mirror the glory of the Lord, are being transformed into the same image from glory to glory, just as by the Spirit of the Lord." 2 Cor 3:18. He wants us to shine with His glory to others. He is preparing a glorious bride without spot or wrinkle.
God shares His glory with us so we can shine His light in this dark world and share the gospel with others. We shine the light of God when we spend time with Him in prayer, when we walk together in unity,when we speak of Him to others, and we live righteously and serve others.
Pastor Earl Roberts led the prayer time and asked us to pray for revival in the church. We had a time of giving thanks and praise in an open mic, a time of small group prayer, and a time of praying for every single church present by name, that God would fill them with His glory and that they would see revival in their local church.
Pastor Glenn Stone invited us to the January 24th GOGCC meeting at First Baptist Church in Pocasset, and reminded us that it won't be colder that last night's weather so let's all meet there 😊
Pastor Mike Allen closed us in a wonderful uplifting prayer.
Thank you all for coming. Merry Christmas and Happy New Year.
Pastor Henry Perry
back