Report on the May GOGCC Prayer Meeting at Christ Chapel
by Michael Malanga
on May 25, 2017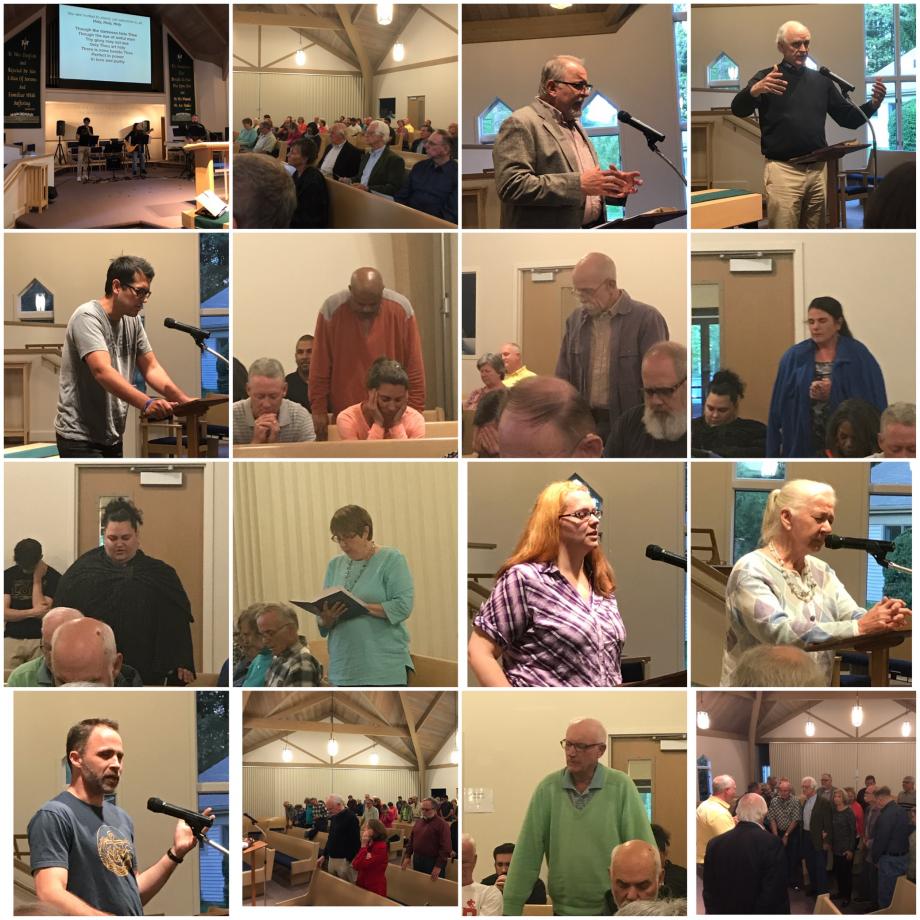 Dear Partners in Prayer for Revival,
This past Wednesday, May 24, 2017 Christians from both on and off the Cape – as well as one fellow and his family from San Antonio, Texas - gathered at Christ Chapel to worship the Lord and pray for revival. The evening began with a time of worship through hymns, songs, confession, and the responsive reading of Scripture from the Old and New Testaments.
With our hearts thus prepared, Mamdouh Riad shared with us the vision, purpose, and passion for seeking revival as the expression of the glory of God on Cape Cod. After this reminder, I was privileged to offer a brief exhortation grounded in Jesus' words from the Sermon on the Mount in Matthew 5.13-16. As those whom Jesus says are "the salt of the earth," and "light of the world" our mission is to prepare for revival by practicing a different lifestyle than our unsaved neighbors. Here is a summary of the message.
Matthew 5.13-16: Big Idea - To be salt and light is to introduce civilization into an uncivilized world.
Salt civilizes as long as it stays salty; 5.13
In addition to flavoring food, salt was used in religious ceremonies, in the making of contracts, as well as to prevent infection in minor cuts and bruises. Salt was also used as a preservative. So, Jesus sends us out into a decaying world so that we might help keep it from going totally rotten.
John Stott explains what Jesus means as follows; "God intends the most powerful of all restraints within a sinful society to be His own redeemed, regenerate, and righteous people." We civilize our culture by making disciples of all nations, baptizing them in the name of the Father and the Son and the Holy Spirit teaching them to observe all that Jesus commanded us.
Light civilizes by giving light to all concerned; 5.14-16
Those not living in a faith relationship with Jesus are living in spiritual darkness. They see the creative power of God all around them, but they refuse to honor Him. The only way to help those walking in darkness is to be exactly what Jesus says we are: the light of the world. We are to shine. Not judge. Shine!
Jesus combines two symbols normally used to represent Israel in order to describe our mission as the light of the world.
We are like a city on a hill. The reference to being a city set on a hill is most clearly a reference to Jerusalem. The church is like Jerusalem in that it represents the presence of God on the earth. Just as Jerusalem offered sanctuary and rest to weary travelers, so too, the church is meant to be a visible community, offering hospitality, sanctuary, and rest for all who seek to live within its community.
We are like a lamp which is put on a stand and gives light to all in the house. Each of us is called to live on mission. We let our light shine by practicing what Jesus preaches; doing good works so that when people see them, they will give glory to God our Father in heaven.
By calling us salt and light, Jesus sets us apart. He makes us different. And that which makes us different also makes us effective. To be salt and light is to introduce civilization into an uncivilized world. We civilize the world through praying for revival. The message ended with this quote from Martyn Lloyd-Jones,
"The glory of the gospel is that when the Church is absolutely different from the world she invariably attracts it. It is then that the world is made to listen to her message, though it may hate it at first. That is how revival comes."
After the message, Pastor Myron Heckman asked people to respond by expressing how they sense God calling them to be salt and light. Following this, Pastor Heckman invited the members of Christ Chapel to come forward for prayer. The prayer, led by Pastor Mike Allen, asked for God's continued blessing upon Christ Chapel and its ministry to the community. The floor was then opened for people to come forward to offer testimony and prayer. We were blessed by the presence of a young man who brought his wife and family to the Cape from San Antonio, Texas. He came to the prayer meeting because he sensed the Lord calling him here to pray for revival.
Pastor Earl Roberts ended our time together with prayer. The whole evening was filled with a palpable sense of the Holy Spirit and prayer. It was especially gratifying to see so many people linger in the sanctuary and narthex to visit with one another.
Our next gathering will be Wednesday, June 28, 2017, 6:30pm-8pm at the New Life Christian Center, 486 Main St., Dennis, MA 02638, phone 508.398.7408 (http://www.newlifeoncapecod.com/)
May the Lord send revival to His church as well as awaken the hearts of the unchurched.
Kindest regards, on behalf of the members of Christ Chapel,

Pastor Michael Malanga
back