Revival on Cape Cod
by Paul Jehle
on September 20, 2016
Revival on Cape Cod

An Overview of the Legacy of Awakenings
from 1620 to 1880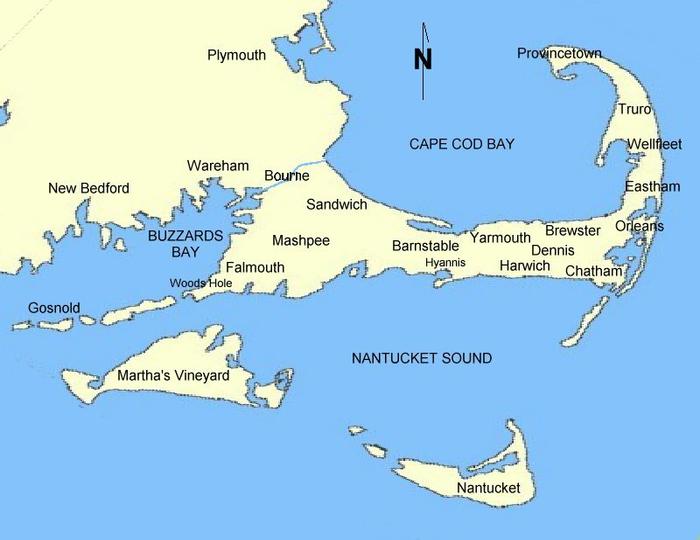 Dr. Paul Jehle
Heritage Institute Ministries
P.O. Box 1353, Sagamore Beach, 2016
An Overviewof the Legacy ofCapeAwakenings
Dr. Paul Jehle ; August, 2016

Introduction

It is virtually impossible to cover every story of revival in every town on Cape Cod. I don't know them all anyway, in fact, only God knows them all. I have pondered how I might do justice to revival and awakenings of towns that had significant legacies. My goal is to piece together an overview with the intention of bringing some inspiration from the past that we might have hope for the future.

As Romans 15:4 exhorts us "for whatever things were written before were written for our learning, that we through the patience and comfort of the Scriptures might have hope." In context, it is the inspiration from the Old Testament as the background for the New that gives us hope, but in application, it involves the stories of our past that illustrate Biblical truths so that we have hope and confidence in knowing that the God of yesterday and today is also the God of tomorrow for "Jesus Christ is the same yesterday, today, and forever." 1

Though I will not cover events in every town on the Cape, I hope to inspire those who love the area and are called to minister on Cape Cod to continue researching their own towns so that each of us can own a Providential perspective on what God has done in the past. I am conscious of doing my best to keep this relatively brief, so I have dubbed this work an "overview."

I define revival as "bringing to life what has been ignored or lost" and in the context of Christian revival, "restoring a desire to love and live for Christ." From a Biblical perspective, we are often living beneath our potential, but as Psalm 85:6 states "Lord, will you not revive us again, that your people may rejoice in you?" I define awakening as "bearing the image of Christ's godly character and integrity so that the culture surrounding the believer reflects a significant impact of the Kingdom of God in evangelism and discipleship." As Psalm 85:13 declares at its end "Righteousness will go before Him, and shall make His footsteps our pathway." It is one thing to profess Christ (revival) yet another to bear His image in our character, impacting the people as well as the culture around us(awakening).


One might ask, you are a full-time Pastor in south Plymouth, so why do you have an interest in Cape Cod? My hobby is history, specifically the Hand of God (i.e. providence) as seen in history. Noah Webster defines providence "In theology, the care and superintendence which God exercises over his creatures. He that acknowledges a creation and denies a providence involves himself in a palpable contradiction; for the same power which caused a thing to exist is necessary to continue its existence." 2 I have spent many hours in the archives of Pilgrim Hall Museum in Plymouth tracing the faith and legacy of the Pilgrims as it evidenced "the care and superintendence" which God exercised in foresight and loving direction as He always does His remnant. These Pilgrims first landed on Cape Cod and so the history of Plymouth and the Cape is inseparable. Having conducted pilgrim tours of Plymouth as well as the Cape and Martha's Vineyard for decades has only enhanced my love of seeing the Hand of God on this neck of land!
________________________________
1 Hebrews 13:8.
2 Webster, Noah., An American Dictionary of the English Language, 1828, now published in facsimile by the Foundation for American Christian Education, www.face.net
The Pilgrims and Cape Cod: Foundations of Revival
It is important to recognize that the Pilgrims migration to America was essentially a church planting project. Though half the passengers on the

Mayflower

were not a part of the Leyden Congregation, it was the Pilgrim Church that initiated the voyage, the others were coming for other reasons but lived under the lawful agreements set up by the Church in Plymouth. To be historically accurate in context, when the

pilgrims and puritans came to Plymouth and Cape Cod they were at the peak of a revival known as the Great Reformation.

This wave of revival and awakening was breaking on the shores of New England.





This Reformation was a revival

and

an awakening that took place with increasing effectiveness for over 200 consecutive years (1400-1600), building from individuals to a movement so broad that it gave rise to an incentive to discover technology like moveable type to get the Bible to unreached people groups! The revival sent people into a wilderness to see what kind of a civilization they might produce. This Great Reformation was happening in Europe in general and England in particular and one of its results were the beginnings of the United States of America.







Arriving in a wilderness at the peak of a centuries old revival and awakening means that the first thing one does is inspire families to disciple their children and establish a church. Once a church is formed with enough families, then a town can begin. When the Pilgrims arrived in what is now

Provincetown

, William Bradford (their second Governor and historian) writes "

Being thus arrived in a good harbor, and brought safe to land, they fell upon their knees and blessed the God of Heaven who had brought them over the vast and furious ocean… again to set their feet on the firm and stable earth, their proper element."3
This sounds like a people in revival. No wonder a stone marker commemorates this landing in Provincetown for this tiny step ashore was part of the seed of the United States.




Robert Cushman, one of the Pilgrim leaders in England, wrote a treatise entitled

Reasons and Considerations Touching the Lawfulness of Removing out of England into the Parts of America. It was published as a part of the first primary source book in America – Mourt's Relation. It was a common sentiment among believers at the peak of revival that they should have a proper Biblical theology in immigrating to the wilderness of America. These "instructions" were to curb previously failed attempts by England and the mistreatment of Natives by previous settlements. This highlighted summary of their motives were sensitive to Biblical truth, the Lordship of Christ, and working of the Holy Spirit.

First, you can't claim land like Abraham did – Old Testament Israel was uniquely chosen by God.
Second, you must go for God's glory and to bless others and not for selfish reasons (like gold).
Third, you must desire to evangelize the Natives, not oppress them.
Fourth, you should build your settlement in empty space not claimed by anyone.
Fifth, procure a treaty of peace as quickly as possible to your nearest Native neighbors.
Sixth, gain voluntary title to the land you possess. 4
____________________________________________



3 Bradford., William., Of Plimoth Plantation, Morison edition, Alfred A. Knopf, 1979, page 61.




4 Cushman, Robert., Reasons and Considerations Touching the Lawfulness of Removing out of England into the Parts of America., as published in Mourt's Relation, the first primary source book probably written by Edward Winslow, 1622. See the edition edited by Jordan Fiore and published by Plymouth Rock Foundation, 1985, pages 77-82.





Now the question would be, would the Pilgrims follow these guidelines? The Pilgrims arrived as one of the most documented immigrant groups at the time. They had two documents on board – a Patent and a Charter from the King of England – permission to land as well as set up a government. They wrote two more documents within six months of their arrival – the Mayflower Compact (a new charter of government written and signed in Provinctown Harbor that would be followed by a Constitution in 1636), and the Peace Treaty with the Natives in March of 1621.


Since they were no longer under the original Patent, in order to quell potential mutiny, they drew up the Mayflower Compact on board the Mayflower in what is now

Provincetown Harbor.

The first two lines are significant:"In the Name of God, Amen. We whose names are underwritten, the loyal subjects of our dread Sovereign Lord King James."5 God was first, then the people, and then the King (or civil government.) This altered the power flow from England's "divine right of kings" and laid the foundational charter for self-government; a precursor to the Declaration of Independence. Rights came from God, not government, and government's power is dervied from the people by their consent. As Psalm 105:8-10 declares "He hath remembered his covenant… he made with Abraham, and his oath unto Isaac; and confirmed the same unto Jacob for a law.."
A revival in the heart of a people renews their covenant with God, if it continues, the awakening will eventually confirm that covenant in law within a socity. No wonder in Provincetown the large Compact Memorial and Pilgrim Monument honors this document!

During their exploration of Cape Cod they were looking for four things – a shallow harbor to keep their Shallop, a high hill easily defended, fresh water, and cleared (abandoned) land on which to settle. It is important to relate several aspects of Pilgrim conduct during this exploration on Cape Cod. Though they desired to trade with the Natives and let them know they had come in peace, they were also intensly curious as to who lived here and whether they would be friendly.


After finding a spring, the exploring party came across Native graves and houses. They dug up some graves to see what was in them and took some things from the houses. Regarding the graves,"We supposed there were many other things; but because we deemed them graves, we put in the bow again, and made it up as it was, and left the rest untouched, because we thought it would be odious unto them to ransack their sepulchers."6 . Regarding their homes,"intending to have brought some beads and other things to have left in the houses, in sign of peace, and that we might truck with them…so soon as we can meet conveniently with them, we will give them full satisfaction." 7. In my opinion, they should have left the graves and houses alone, but they did keep their word and give full satisfaction, as reported by Bradford. 8



The Pilgrims found corn on their second and third exploration at what they called Cornhill (now

Truro

.) After they discovered the corn,"We were in suspense what to do with it and the kettle, and at length, after much consultation, we concluded to take the kettle, and as much of the corn as we could carry away with us; and when our shallop came, if we could find any of the people and come to parley with them, we would give them the kettle again, and satisfy them for their corn." 9. Knowing their corn would not grow in the sandy soil, the common law they understood permitted them to take another's property in such a state, as long as they did pay for it. This they did six months later when visitng the same Tribe.

________________________________________________
5 Ibid., page 75.
6 Mourt's Relation, page
7 Ibid., page 25.
8 Bradford, Of Plimoth Plantation, page 66.
9 Mourt's Relation, page


The second key document was the Treaty of Peace with the Wompanoags. It took place on March 22, 1621 and was "ratified" in the common house at Plymouth. The contents of the Treaty was as follows:

"1. That neither he nor any of his should injure or do hurt to any of our people.
2. And if any of his did hurt to any of ours, he should send the offender, that we might punish him.
3. That if any of our tools were taken away, when our people were at work, he should cause them to be restored; and if ours did any harm to any of his, we would do the like to them.
4. If any did unjustly war against him, we would aid him; if any did war against us, he should aid us.
5. He should send to his neighbor confederates to certify them of this, that they might not wrong us, but might be likewise comprised in the conditions of peace.
6. That when their men came to us, they should leave their bows and arrows behimd them, as we should do our pieces when we came to them."10

When the child John Billington ran away and was picked up by Natives at Manoment and then brought to Nauset (

Barnstable

), Bradord went there to get him returnedin mid-summer, 1621. Here they met with the tribe that had attacked them at "First Encounter Beach"(December 8, 1620 –now

Eastham

.) Massasoit sent two Native guides with the ten Pilgrims that summer. Mourt's Relation describes a meeting of reconciliation near what is now

Barnstable harbor.



"One thing was very grievous unto us at this place. There was an old woman, whom we judged to be no less than a hundred years old, which came to see us, because she never saw English; yet could not behold us without breaking forth into great passion, weeping and crying excessively. We demanding the reason of it, they told she had three sons, who, when Master Hunt was in these parts, went aboard his ship to trade with him, and he carried them captives into Spain, (for Tisquantum at that time was carried away also,) by which means she was deprived of the company of her children in her old age. We told them we were sorry that any Englishman should give them that offense, that Hunt was a bad man, and that all the English that heard of it condemned him for the same; but for us, we would not offer them any such injury, though it would gain us all the skins in the country…. When our boat was aground, they came very thick, but we stood therein upon our guard, not suffering any to enter but two, the one being of Manamoick, and one of those whose corn we had formerly found. We promised him restitution, and desired him either to come to Patuxet for satisfaction, or else wse would bring them so much corn again. He promised to come."11



Two of the most difficult cross-culturaleventsdid takeplace, apologizing for the sins of one's own race, and making restitution for the "emergency use" of someone else's property. After that first three day Thanksgiving harvest festival (probably patterned after the Feast of Tabernacles and taking place in October) of 1621 (12), peace remained strong for over 50 years with Massasoit and the Wompanoag.



In 1622, in what is now

Chatham

, Squanto (or Tisquantum), the "special instrument sent by God" as Bradford called him, was with several Pilgrims and got sick. "In this place Squanto fell sick of an Indian fever, bleeding much at the nose…and within a few days died there, desiring the Governor to pray for him that he might go to the Englishmen's God in Heaven.." 13
____________________________________
10 Mourt's Relation, pages 49-50.
11 A Voyage Made by Ten of our Men to the Kingdom of Nauset, as published in Mourt's Relation, page 60.
12 See Jehle, Paul., The Meaning of Thanksgiving., Plymouth Rock Foundation's Newsletter, Volumne 30, Issue 6, 2007. 13 Bradford, Of Plimoth Plantation, page 114.


After the 1623 change from communal farming (forced on them by their financiers) to individual land ownership, the settlement tripled its production and soon individuals from Plymouth were influencing other settlements. The impact that Plymouth had on Salem in 1626 and then Boston in 1630 prompted Bradford to make his famous statement "thus out of small beginnings greater things have been produced by His hand that made all things of nothing, and gives being to all things that are; and, as one small candle may light a thousand, so the light here kindled hath sone unto many, yea in some sort to our whole nation; let the glorious name of Jehovah have all the praise."14. This is a powerful statement about a people in revival who will inspire and influence others from the well of life from which they are living.

The Pilgrims also built a trading post in 1627, located in

Bourne

. The Aptuxet Trading Post, rebuilt on its original foundations, is a marvel, being one of the oldest buildings of the Pilgrims. Bradford writes "That they might better take all convenient opportunity to follow their trade, both to maintain themselves and to disengage them of those great sums which they stood charged with and bound for, they resolved to build a small pinnace at Manomet, a place 20 miles from the Plantation, standing on the sea to the southward of them, unto which by another creek on theis side they carry their goods within four or five miles, and then trasport them overland dto their vessel."15

Trading with the Dutch, French and the Natives, this post made everyone wealthier. One key attribute of believers in revival is their impact of the market place in integrity and honesty. The use of wampum as money for international trade is a critical legacy of the Pilgrims on Cape Cod. It is also the spot where Isaac DeRaisier, a Dutch trader, wrote an eye-witness account of how the Pilgrims lived and went to church. The necessity of carrying goods across the land to join two rivers eventually inspired the construction of the Cape Cod Canal.

Though the Pilgrims were never large in number or financially wealthy, their influence was astounding in values, ideas and a legacy of integrity. The founding of

Eastham

is a case in point. Duxbury and Marshfield had already been planted from the original Plymouth church and town. The area considered was originally the home of the Nauset Indians that attacked the Pilgrims at First Encounter Beach. In the year 1644 Bradford comments "the church began seriously to think whether it were not better jointly to remove to some other place than to be thus weakened and as it were insensibly dissolved."16. A delegation of seven men went to what is now

Eastham

(then called Nauset). Though the whole Plymouth church did not move, seven families did go to Eastham and founded the town by 1651. 17

One of the classic tourist attractions in Eastham is its old Windmill. It was built in Plymouth by Thomas Paine (1613-1706) in 1680. Because of the ideal location on Town Brook as well as the freedom to operate private businesses, several Mills were constructed, beginning with John Jenney's Grist Mill in 1636. Thomas Paine was born in Eastham, but later served as water bailiff of the Plymouth Colony Court. He was known as the builder of mills, among many other areas of service. 18.

_____________________________________
14 Bradford., William., Of Plymouth Plantation; edited by Samuel Eliot Morison, page 236.
15 Ibid., pages 192-193.
16 Ibid., page 333.
17 See the History of the Town of Eastham from http://www.eastham-ma.gov/Public_Documents/EasthamMA_WebDocs/about
18 See this biography of Paine's life at http://www.findagrave.com/cgi-bin/fg.cgi?page=gr&GRid=34166386
The present location of the Mill in Eastham is on property once owned by Giles Hopkins, son of Stephen Hopkins who came on the Mayflower and also later moved to Eastham. It is possible that Paine learned the technology in Plymouth along its Town Brook, and then construed his wind powered Mill, pushing it across the Bay during winter to Cape Cod. "It was moved to Truro in the 1770s and then to Eastham in 1793 to its first location where the National Seashore Salt Pond Visitor Center is now located, and then to its present site in 1808. Lovingly restored and maintained, it is both the oldest and and last working gristmill on the Cape." 19



The Puritans and Cape Cod – Legacy of Revival

The Puritans were initially distinct from the Pilgrims. Pilgrims separated from the Church of England, thus called "separatists." Puritans desired to purity the church from within but many soon found that this was not working. Thus, when John Winthrop came in 1630 he gave instructions for settling in his Model of Christian Charity, possibly preached before they all left for the new world or during the voyage.

He stated "Thus stands the cause between God and us. We are entered into Covenant with Him for this work, we have taken out a Commission…if we shall neglect the observation of these Articles….the Lord will surely break out in wrath against us… and make us know the price of the breach of such a Covenant. Now the only way to avoid this shipwreck and to provide for our posterity is to follow the Counsel of Micah: to do justly, to love mercy, and to walk humbly with our God… For we must consider that we shall be as a City upon a Hill, the eyes of all people are upon us; so that if we shall deal falsely with our God in this work we have undertaken… we shall be made a story and a by-word through the world." 20

Pastor John White, later dubbed the "father of Massachusetts", was rector of Holy Trinity Church in Dorchester. He was the key initiator of the reorganized Council for New England that would raise the funds and seek to bring the gospel to these shores. He had already written his reasons for migration and they were similar in spirit to Cushman's a decade earlier. White was concerned that the right people be chosen for this work in order to maintain a holy and Biblical purpose. His first reason for those migrating was "to carry the gospel into America." 21. White was saying to Winthrop and the others that "the nation (of England) had turned from the path of righteousness…and God threatened judgment on England." 22

No wonder then that the Charter of 1629, with White as one of its authors, established Massachusetts Bay with the express purpose that "…our said People, Inhabitants there, may be so religiously, peaceably, and civilly governed, as their good life and conversation may win and incite the Natives of the Country, to the knowledge and obedience of the only true God and Savior of Mankind, and the Christian Faith, which is our Royal Intention, and the Adventurers of free Profession, is the principal end of this Plantation." 23

Thus the Pilgrim and Puritan migration to America had been conducted with a clear and written intention to bring the gospel to those without it. This was because they were coming at the peak of a revival experienced in England. Like a wave crashing upon a beach, a fervor for Christ and evangelism was carried by Puritans arriving at Salem and Boston that would spill on to Cape Cod after 1630. Consider also that the strongest leaders would come to establish a beachead for the gospel and the Kingdom of God. As one Puritan leader put it "God sifted a whole nation that he might send choice grain over into this wilderness." 24
_________________________________________
19 The Eastham Windmill, Eastham Historical Society http://www.easthamhistoricalsociety.org/?page_id=118
20 Dunn, Richard S., and Yeandle Laetitia., The Journal of John Winthrop 1630-1649., Belknap Press, 1996, pages 9-10.
21 Bremer, Francis., John Winthrop: America's Forotten Founding Father., Oxford University Press, 2003, page 157.
22 Ibid., page 159.
23 Charter of Massachusetts Bay, March 4, 1629, Lonang Institute, http://lonang.com/library/organic/1629-cmb2/
24 Stoughton, William., Election Sermon, April 29, 1669.
Sandwich – Beachead of Revival on Cape Cod

The first town to be settled on Cape Cod was Sandwich in 1637. Those who settled it brought revival with them. These "ten men" from Saugus (which was renamed Lynn a short time later) settled under the conditions set up by Goveror Winslow of Plymouth and Governor Winthrop of Boston. 25. One was 59 year old Thomas Tupper. Another from Saugus who arrived soon after would become his next door neighbor; 27 year old Richard Bourne. The Pastor of the first church was William Leveridge.

Leveridge was a minister "described as a man of great piety and meekness." 26. Soon he was working on resolving disputes and overseeing the first Meetinghouse constructed in 1639. His desire was to reach the Natives with the gospel and to that end learned the Indian tongue. 27. His inspiration and influence on Tupper and Bourne would be felt for decades. It is important to know that Sandwich at this time had representatives that had to travel to Plymouth, and it was Bradford, as Governor, who made sure that the Indian Chief at Manomet as well as Massasoit, Chief of the Wompanoag nation, were in agreement as to the bounds of the settlement and the price paid for the land. 28. This conduct would be expected of a newly formed town whose inhabitants of sixty famlies were living out their Christian faith with biblical conduct.

After Leveridge left Sandwich for Long Island in 1654, Thomas Tupper and Richard Bourne continued preaching in the Meetinghouse as lay ministers. They lived next door to each other near where the old Glass Museum is today. Richard Bourne and Thomas Tupper, under the initial inspiration of their pastor, would produce a beachead for revival that lasted for decades.

Thomas Tupper's father Henry was influenced by Robert Browne, one of the leading Separatists that spawned the Pilgrim church in England. Thomas would follow in his father's spiritual footsteps, but also learned the trade of the leather business, working in shoemaking. Arriving in 1631 after several voyages to the new world in trade, he became friends with Thomas Mayhew who would become missionary to the Vineyard. After the death of his wife Susan in 1634, he brought his daughter of fifteen and son of five with him to Sandwich in 1637. He served the town as a representative in the General Court, on juries, local boards and commissions, and was a selectman when he was over 90 years old!


Bournedale – Legacy of God's Intervention

Tupper was a charter member of the first church of Sandwich and he was constant in attendance and preached the gospel to others. He shared the pulpit with Richard Bourne but also ministered among the Natives. One of the marks of revival involve numerous conversions. So successful were his endeavors at sharing the gospel among the Natives that soon after Sandwich was founded Tupper (along with Bourne) started a church for the Natives near Herring Pond in what is now Bournedale in 1637. His son Thomas soon followed in this endeavor as well. Thomas Sr. died in 1676 at 98 years of age!
______________________________________
25 Lovell, R.A., Jr., Sandwich: A Cape Cod Town, the Town of Sandwich, 1984, pages 3-4.
26 Ibid., page 25.
27 Ibid., page 37, 56.
28 Ibid., pages 26-27, 30.

A remarkable story of the ministry of Richard Bourne in Bournedale is related by Betsey Keene.
"Situated in the woods some distance northerly from the Bourne fire tower is a large rock (on a part of one of Richard Bourne's grants) called in early days 'Sacrifice Rock', but later Chamber Rock. Tradition makes this one of those rocks on which the Indians, with dancing and riotous ceremonies, offered their sacrifices, sometimes human. The English tried in all ways to stop the barbarous custom. As the Redmen began one of their sacrificial performances prior to burning a white aptive, a missionary to the Indians appeared on the scene. Immediately sensing what the wild commotion meant, he called to the Indians to desist from their inhuman work. Whey they continued their torture, Mr. Bourne threw up his arms, exclaiming 'If you do not stop your horrible work I will call upon my God to visit his wrath upon you'. The Indians disregarded the warning and, according to the legend, a vivid flash of lightning did encompass the rock which it split into numerous strangely shaped pieces, while it killed many of the savages. Every part of the rock as it stands today bears out the story; for the sizes, shapes and edgs of the sections variously split would, if it were possible to replace them, apparently fit together perfectly." 29

Evidently this miracle helped solidify more converts to the "Praying Indians" at the meetinghouse in Bournedale, for Tupper eventually had about 180 Native members of the Bournedale church! Over a hundred years later objective scientists with no knowledge of the incident were asked how the rock split. Their conclusion? It had to be split by lightning. God works in amazing ways when revival hits!
Mashpee–Legacy of Native Integrity



Richard Bourne, in addition to his life and ministry in Sandwich, turned his attention also to Mashpee in 1658 where he established a church. They erected a Meetinghouse in 1670 and it still stands and is used today as a house of worship. In the same year, Bourne was ordained pastor with John Eliot and John Cotton attending the service on the 17th of August. By 1674 Richard Bourne named 22 places where he was ministering to Natives with an attendance of 500! He reported that 142 could read Indian (and thus read the 1663 Indian Bible translated by John Eliot into their language), 72 could write and 9 could read English! What is most important is that Richard Bourne wanted to secure Native fishing and hunting rights as well as boundaries written in deeds so they could perpetually own their own land. He also wanted Indian pastors to take over his ministry so that their congregations could be self-governed. 30

Richard's service to Sandwich, Mashpee and Cape Cod was extensive. He was deputy to the Plymouth Court, a surveyor of highways and a receiver of oil for Sandwich. He had four sons by his wife Bathsheba. Shearjashub, theyoungest, assisted his father in the ministry. It was reported in 1649 that he ministered among the Natives during a great sickness but did not contract anything to which many remarked was an amazing Providence of God. In 1677 he remarried Ruth Winslow. He died in 1682 at 72 years of age, and no one knows where he is buried. While he was alive, through his influence the ruling elders endeavored to have the rights of the Natives protected. 31. Unfortunately subsequent generations ignored the protected fishing, hunting and land rights of the Natives, and greed replaced the love of Christ that had dominated the 17th century work of Bourne.
_________________________________________
29 Keene, Betsey. History of Bourne from 1622 to 1937, Bourne Historical Society, 1975, page 183.
30 Keene, Betsey, pages 215-216.
31 Aver, Mary Farwell, Richard Bourne: Missionary to the Mashpee Indians, David Clapp & Sons, 1908.
So strong was the heritage of Christianity in Mashpee that on September 2, 1934, a special service was held at the Indian Meethouse there. The Bourne Historical Society presented a plaque in honor of Richard Bourne who had established the church in 1658. A large delegation of Natives were there to honorthe onewho they called "the white sachem."
" 'Of all ministers', said Mr. Redfield, 'who have served during the nearly 300 years of the history of Christianity in Mashpee, none made so great a contribution as Richard Bourne. He was not only the Spiritual leader but was a political champion as well, obtaining fair treatment and legislation for the Mashpees. He unselfishly gave of his time and means to help these people. it is fitting at this time to memorialize the name of the one who has had such an influence upon the history of Mashpee. We welcome this opportunity of sharing the name and memory of Richard Bourne – first Missionary to the Mashpees.' The congregation joined in singing the following lines written especially for the occasion.

Into these Lands, many long years ago Came a man of God.

So long he labored here, in love and not in fear,

His memory is honored now with one accord.

Give honor to his name, the 'Bourne' of Gospel fame of whom we sing

May the 'Christian Indians' Lands' their forests, streams and sands

Ever and evermore with his memries ring. 32

It is interesting to note that the revival that resulted from Bourne and Tupper's preaching, and the peaceful relations with the Natives, made Sandwich the "barrier to the lower Cape towns" during King Philip's War in 1675. Sandwich then sent word to outlying towns inviting them to come and live with them to be protected. Though most chose to defend their homes and land, it was the result of evangelism and revival that brought about such peace and tranquility. 33

It is important to note that though there was much success in seeing Natives converted through the preaching of the gospel on Cape Cod, much of the inspiration came from John Eliot. Eliot, though a Pastor in Roxbury, soon began to learn the Indian language, hiring English speaking Natives to live with his family. He would then preach in their language, and after their conversion, dubbed them "praying Indians." 34 Soon whole tribes were so named, and "Praying Indian Villages" that numbered up to 14 dotted the landscape of New England, with several, most notably Sandwich, Mashpee and Barnstable on Cape Cod. His complete Bible in the Indian tongue was a " stupendous work of note… writ with but one pen" as Cotton Mather remarked. Completed by 1663, it was the first printed Bible in America. 35


Barnstable – Legacy of Patriotic Oratory

Pastor John Lothrop, the second pastor to inhabit Barnstable, arrived in October of 1639. Lothrop's congregation had 25 families, much larger than Joseph Hull's who had initially come a few years earlier but now moved on to

Yarmouth.

Lothrop, a separatist jailed in England when his worship service held in a home was raided in 1632, he sailed for the New World in 1634. 36
____________________________________
32 Keene, Betsey, page 219.
33 Keene, Betsey. History of Bourne from 1622 to 1937, Bourne Historical Society, Inc., 1975, pages 203-204.
34 Keene, Betsey., pages 211-213.
35 Keene., Betsey, page 212.
36 Sheedy, Jack, and Coogan, Jim, Cape Cod Companion: The History and Mystery of Old Cape Cod., Harvest Home Books, 2000, page 34.
Lothrop began preaching the gospel to the Natives, and many were converted. The "sacrament rock" utilized for Native ceremonies and prayer soon became dubbed a "pulpit rock". When preaching the gospel, the sacrifice of Jesus on the cross as God's gift to us would be contrasted with having to work our way to God (through ceremonial prayer or animal sacrifice) to erase the guilt of sin. There are probably 25 such renamed rocks throughout New England. One such rock (now a monument) marks such a revival of souls being saved in Barnstable.

"Before a meeting house was built, first church services were held at a large buolder known as Sacrament Rock, also known as Pulpit Rock. Though the boulder was later dynamited to make way for

Route 6A

, pieces of the original rock were cemented together along with a plaque to form a monument recognizing the spot where the first services were held." 37

By 1685 Governor Hinckley reported that there were almost one thousand such converted Natives in Barnstable County alone! This large number of converted Natives is the result of revival. 38 The direct legacy of Lothrop's congregation is the

West Parish Church

built in 1717 (it still stands off of exit 5 on route 149.) After Pastor Jonathan Russell Sr. died, his son took the pastorate of the west parish, a friendly split from the East Parish. Father and son(Jonathan Sr. and Jr.), from 1683 to 1759, baptized 1,015 people and added 427 members to the church! 39 Considering the population of the Colonies, and particularly the Cape, this was quite a sustained revival!

back