Save the Date: Special GOGCC Meetings with Pastor Sameh Maurice
by The GOGCC team
on March 19, 2019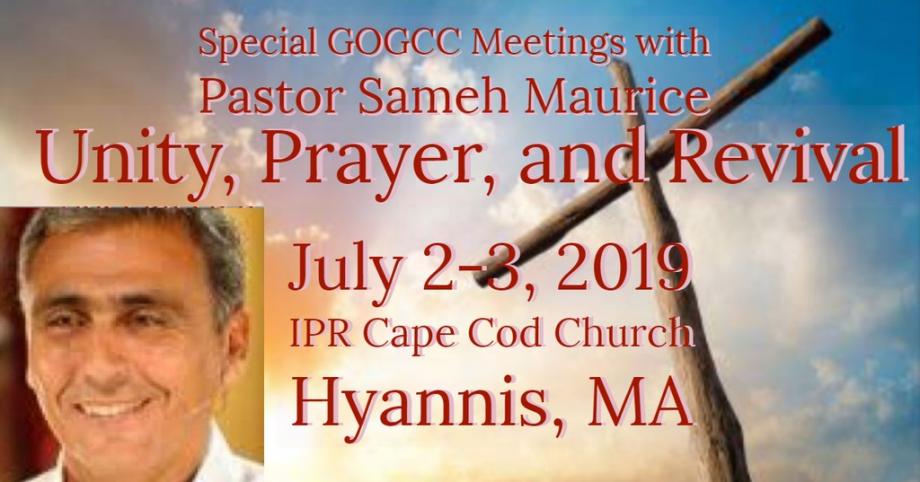 Special GOGCC Meetings with Pastor Sameh Maurice
Unity, Prayer, and Revival
July 2, 3, 2018
7pm -9 pm
IPR Cape Cod Church
90 Hinckley Road
Hyannis, MA 02601

Dear friends,

As you may have heard, there is a current ongoing revival in Egypt and the rest of the Middle East with millions of Muslims coming to Christ. A key leader of that revival is pastor Sameh Maurice, who is considered to be the Jonathan Edwards of this revival.

We have a special opportunity as the regional body of Christ to come together and hear Pastor Sameh Maurice, a much sought after speaker by different churches around the world. We are thrilled to have him come to Cape Cod and the opportunity we have to hear him in person.
All service are in English and will he held at IPR Cape Cod Church.

This short video will give you a feel for who he is and what he carries. The video is 2 parts: First, his 2016 speech at NYACK college when he received his honorary doctorate, and second, his interview with leaders of an American ministry who traveled to Egypt to visit his church and interview him. That interview took place in 2011, and was about what the Lord stirred the Church in Egypt with in 2010, one year before the Arab Spring hit Egypt and the Egyptian revolution ensued. The interview gives insight as to how the Lord prepares His people for what they are about to face.
Please help us spread the word. The event is totally free, but your registration guarantees you a seat and help us plan for the meeting. Seating in limited and we already have had a quite a number of seats reserved in the first few hours since the event was posted, so we encourage you to register early if you plan on coming.

You can register for these meetings here.
If you are registering on Facebook, please note that you need to click on "Get tickets" after indicating "Going"to reserve a seat. Clicking on "Going" only does not reserve you a seat.

We look forward to seeing you then!

The Glory of God on Cape Cod team


Below is Pastor Sameh Maurice full bio:

Dr. Rev. Dr. Sameh Maurice
Senior Pastor of Kasr El Dobara Evangelical Church
Dr. Rev. Sameh Maurice is the senior pastor of Kasr El Dobara Evangelical Church, the largest church in Egypt, which holds the biggest network of ministries in the Middle East.
A former prominent surgeon, Dr. Sameh Maurice was always involved in ministry through his medical career. In 1988, he was fully persuaded that full-time ministry was God's call upon his life. He led his church to pray for Egypt since the early 1980s with the focus of a unified Egyptian church always on his mind. His heart is for local churches revival that springs with an overflow that prepares the way for a nationwide Harvest in Egypt.
* Bet El Wadi, was a dream adopted by Rev Sameh who always imagined the establishment of a commodious social services center. Construction started in the year 2000. Bet El Wadi is now hosting major evangelical, sports and training events, as well as worship conferences.
* In 2000, he pioneered the sports ministry in Egypt and the Middle East, as an effective ministry tool.
* In 2008, Rev Sameh developed the School of Christ teaching series which is aired on Christian channels and social media networks engaging millions in the Arab World, Europe, Australia, and the U.S. School of Christ teaching series is now translated into sixteen different languages upon the request of many followers.
* With the advent of the 2011 Egyptian revolution, Rev Sameh opened the church to be a field hospital to the wounded revolutionists flowing from Tahrir square, the heart of the revolution and the place where the church resisdes.
* In 2016, Rev Sameh established the "Days of Harvest" church planting movement in Egypt. With the vision of being a church in a mission towards other churches to assist them in mobile evangelism, discipleship, prayer and leadership training.
* In the same year, Rev. Sameh received an Honorary Doctorate from Nyack College, in recognition of his dedicated service to enhance the spirit and medical needs for the community.
* In 2017, many home cell-groups started to grow under his personal supervision. New churches are now planted in several areas in Cairo, the Capital of Egypt.
* Rev Sameh wrote two books on spiritual foundations and one book for married couples.
* Rev. Sameh is a Co-founder of the Global Kingdom Partnership Network. A global network of pastors who are like minded learning together, growing together and working together to enlarge the kingdom of God in our generation.
Rev Sameh is married to Dr. Imane Kheir and has three sons and three grandchildren.




back