Thrive Cape Cod Conference: March 10-11
by Ben Feldott
on February 9, 2017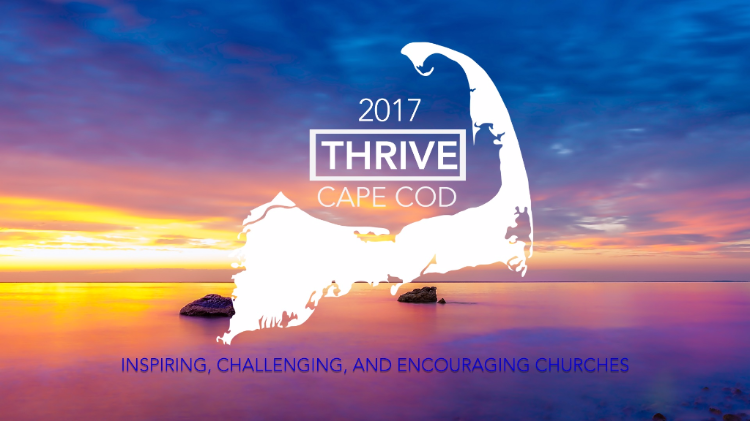 Dear friends,

We would like to invite you to Thrive Cape Cod Conference, which is a Cape-wide conference for Cape Cod Churches March 10-11. The conference is hosted and led by Cape Cod Church in partnership with churches from across Cape Cod. This is an incredible opportunity for Cape Cod churches to work together to reach out and engage the community. This is kingdom work and the Glory of God on Cape Cod leadership team fully supports it and wants to see it succeed.

As a prayer movement we have been praying for the glory of God in our midst and the subsequent outbreak of revival on the Cape. We have also realized all long that it is not either prayer or acts of service/evangelism, it's both/and.

We see in Isaiah 58, a relationship between responding to the needs of the community and seeing the Glory of God among us,

" Is it not to share your bread with the hungry, and that you bring to your house the poor who are cast out; When you see the naked that you cover him, and not hide yourself from your own flesh? Then your light shall break forth like the morning, your healing shall spring forth speedily, and your righteousness shall go before you; the glory of the Lord shall be your rear guard. Then you shall call, and the Lord will answer; you shall cry, and He will say, "Here I am" Isaiah 58: 7-9

The Lord is stirring many pastors and churches with engaging the community. The theme of this conference is Thriving Churches and Thriving Communities, where we will together explore the possibility of harnessing the collective energy of our local churches, as regional body of Christ on Cape Cod, to impact this area and shine the light of Christ on this land!

Please see pastor Ben Feldott's email below. We encourage you to spread the word, register for the conference on the website and bring your friends! Your registration is helpful to the host church to anticipate the number of people coming to the conference and plan accordingly.

Blessings,

The Glory of God on Cape Cod team

P.S. See attached brochure or visit thrivecapecod.org
************************************
Dear friends,


We are about 4 weeks away from the first Thrive Cape Cod Conference on March 10th & 11th!


THRIVE Cape Cod is for people passionate about the work of the Church in their communities. Ministry on Cape Cod can be challenging. THRIVE Cape Cod is a gathering on Cape Cod for Cape Cod. At THRIVE Cape Cod you will....
Gather with Christians from churches across Cape Cod.

Be inspired - in worship, message, conversation, and fellowship - with the potential of what God could do in our churches and in our communities.

Hear from experts, leaders, and practitioners in specific areas of ministry and community that you are passionate about.

Meet together in breakout sessions to brainstorm new and effective ways to grow, bless our communities, and reflect the love and message of Christ in our churches and across this region.
The thrivecapecod.org website is a great source of information to share with your people. Registration is through the website - to make the conference as widely accessible to all there is no cost to register. During registration each person can select their chosen breakout session.


Thrive Cape Cod is for anyone who is passionate about the work of the Church and their church and communities!


Check out Thrivecapecod.org for more information and registration. Please begin to share this website with your people to spread the news and allow them to register.

Yours for Thriving Churches & Communities,

Ben Feldott
Doug Scalise
Clive Calver

------------
Ben Feldott
Sr. Pastor - Cape Cod Church
back