Tonight:United Night of Worship (UNOW) Cape Cod!
by The Glory of God on Cape Cod Team
on May 10, 2014
Dear friends,

Tonight! United Night of Worship (UNOW) Cape Cod!

Doors open at 5:30 pm. Let us all be praying today for:

1. The Manifest Presence of God among us as we gather together.

2. A spirit of unity and love among us all.

3. Anointing on all worship teams, UNOW team, all pastors and leaders participating in the meeting.

4.Salvation of unbelievers.

Spread the word and invite your friends. Looking forward to seeing you there!

Watch New Promo Video for UNOW Cape Cod

https://www.youtube.com/watch?v=OP178G4kv6s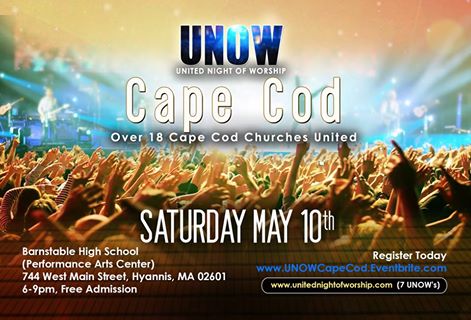 "...He appointed those who should sing to the Lord, and who should praise the beauty of holiness, as they went out before the army and were saying: 'Praise the Lord, For His mercy endures forever" 2 Chron 20: 21

Dear brothers and sisters on Cape Cod,
Looking forward to seeing you this Saturday 5/10/14 at Barstable High School, 6-9 pm!
The body of Christ on Cape Cod will be exalting the Lord Jesus Christ together in worship and prayer. All worship leaders of participating churches will be on the stage together leading us in worship with the UNOW worship team, and the pastors and leaders of local Cape Cod churches will be leading us in praying for this region!
We have 23 churches participating:
Anglican Church of the Resurrection
Bay Community Alliance Church
Bethel Assembly of God
Brazilian Assemblies of God
Cape Cod Bible Alliance
Church of the Redeemer
Covenant on the Rock Church
Christ Chapel
Faith Assembly of God
Falmouth Church of the Nazarene
First Baptist Church in Pocasset
Forestdale Church
Gateway Christian Center
Heritage Christian Church
Light House Christian Fellowship
Living Hope Family Church
Osterville Baptist Church
Marstons Mills Community Church
Mashpee Baptist Church
Mid-Cape Worship Center
New Life Christian Center
Outer Cape Christian Church
The Cause Church

Here is the Facebook event page:

https://www.facebook.com/events/1450447545191194/

Spread the word and invite your friends!

The Glory of God on Cape Cod team


back