Unity,Prayer, and Revival, by Rev.Dr.Sameh Maurice
by Rev.Dr. Sameh Maurice
on July 9, 2019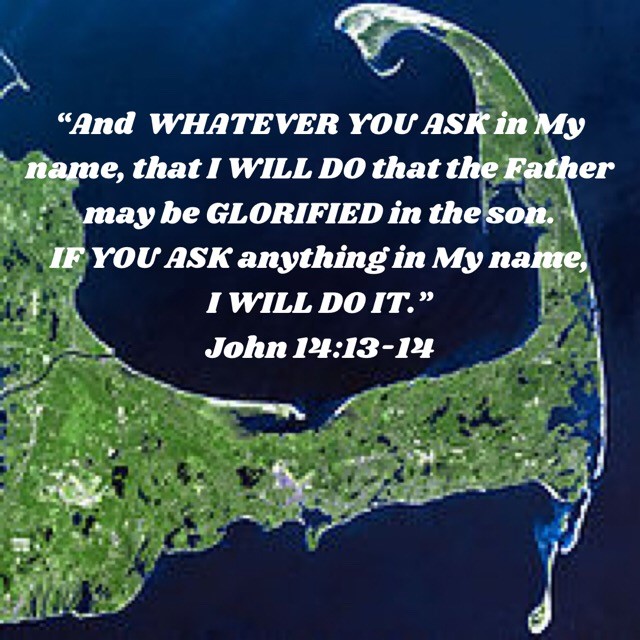 The following is a brief summary of the main points that Rev.Dr.Sameh Maurice shared on Cape Cod last week. Dr. Sameh is the pastor of the largest evangelical church in the Middle East, which is also the largest Arabic speaking church in the world. He is the leader of the current revival in the Middle East that is seeing millions come to Christ, and is considered to be the Jonathan Edwards of that revival. The way Dr. Sameh's visit to Cape Cod came about had the clear hand of the Lord upon it, including a supernatural dream that someone on the Cape had last year about Dr. Sameh preaching before his trip was ever considered. The person who had the dream is outside the GOGCC team. We are strongly convinced that his visit was God ordained and his message to us is right from the heart of God. For his full bio see bio see below.

Unity, Prayer, and Revival
By Rev.Dr.Sameh Maurice
Unity
How many times have you thought how wonderful it will be when we all get to heaven? Just think about it. It's going to be amazing when we are all with King Jesus, worshiping and honoring Him as one family with no divisions, where we can all be "OF ONE MIND". This is what the early church had here ON EARTH too: Consider these "TOGETHER" verses from the book of Acts:
"They all joined TOGETHER constantly in prayer, along with the women and Mary the mother of Jesus, and with his brothers." (Acts 1:14)
"When the day of Pentecost came, they were all TOGETHER in one place." (Acts 2:1)
"All the believers were TOGETHER and had everything in common."‭(Acts‬ ‭2:44)‬ ‭
"When they heard this, they raised their voices TOGETHER in prayer to God. "Sovereign Lord," they said, "you made the heavens and the earth and the sea, and everything in them."
(Acts‬ ‭4:24‬)
"All the believers were ONE IN HEART AND MIND. No one claimed that any of their possessions was their own, but they shared everything they had." ‭‭(Acts‬ ‭4:32)‬
"And all the believers used to meet TOGETHER in Solomon's Colonnade." (Acts 5:12)
If this oneness will be so good in heaven, and if the early Church had it, why not come TOGETHER now?

A few points about unity in the body of Christ:
1. If you love someone, you want to be with that person, and if you don't love someone you might try to avoid being TOGETHER. "Love one another as I have loved you" is Jesus' repeated commandment to us. By THIS, the world will know that we are His disciples, if we love one another. If you love the Father, you love everybody born from the Father. TOGETHER is a sign of love, and love is the language of God. DIVISION is a sign of the absence of love. If we cannot love one another how can we claim that we love the sinners? And how can we love our enemies as Jesus commanded us?

2. "There is ONE BODY and one Spirit, just as you were called to one hope when you were called;one Lord, one faith, one baptism; 6 one God and Father of all, who is over all and through all and in all." (Ephesians 4:4-6)

Also, the NICENE CREED that the early Church Fathers wrote in 325 A.D. says we believe in ONE CHURCH. Jesus is coming for ONE BRIDE, not many different brides.
UNITY preceded past biblical and historic REVIVALS including the current revival in the Middle East.

3. We need one another. TOGETHER we are PERFECTED in ONENESS (John 17:23).
We all have unique and different giftings, talents, and strengths and TOGETHER we COMPLETE one another. God commands His blessings on our unity and ONLY TOGETHER we can be used of God to bring REVIVAL TO OUR REGION.

4. Jesus and Paul saw the Church as the BODY OF CHRIST in a REGION:
The Church of Ephesus, the Church of Philadelphia, the Church of Ladocea, the Church of Corinth, Romans...etc. For us that would be The BODY OF CHRIST ON CAPE COD.
5. It takes HUMILITY and death to self to walk TOGETHER in UNITY.
Pride, our egos and our flesh find it a whole lot easier to be independent and self sufficient.
However, we remain barren without unity with limited fruit. If we are truly seeking the glory of God and want to see a regional revival with masses coming to Christ, we would be willing to pursue unity at any price.
An African proverb says:If you want to go fast go alone. if you want to go far go TOGETHER.

6. TOGETHER we build Christ's kingdom and ALL GLORY goes to HIM. TOGETHER we are true FRIENDS OF THE BRIDEGROOM who say:
"He must increase and we must decrease" (John 3:30)
ALONE we build our OWN KINGDOMS, we seek to gather followers after ourselves, and wrongfully demand the loyalty of our flock to ourselves and our ministries, forgetting that
"He who has the bride (the Church) is the bridegroom.." (John 3:29), and that for us to seek the loyalty of people to ourselves and ministries would be like a best man in a wedding seeking the attention and loyalty of the bride, who belongs to the Bridegroom, to himself.
Prayer:



"Truly, truly, I say to you, whoever believes in me THE WORKS THAT I DO he will also do ; and greater works than these will he do, because I am going to the Father. Whatever YOU (PLURAL) ASK IN MY NAME, this I WILL DO, that the Father may be GLORIFIED in the Son. IF YOU (PLURAL) ASK ME anything in my name, I WILL DO it." (John 14: 12-14)

In the above passage, Jesus was telling the disciples that even though He is leaving them in the flesh and going to the Father, He is ready to do from heaven the same works that He did among them while on earth, and even greater works, IF THEY ASK HIM IN FAITH. In His sovereignty, the Lord chose to make us co-workers with Him andlinked His working to our asking.
He asks that we "Ask, seek, and knock..." (Matthew 7:7-12)

The Church is the only force on earth that can prevent revival by neglecting to ask for it.

A few points on prayer:

1. Prayer is an expression of love. We want to spend time with those we love. If we love the Lord, we will want to spend time with Him in prayer.

2. Prayer is an expression of our humility and utter dependence on God.
It's expressing that we realize that without Him we can do nothing. If we feel self- sufficient and confident in our gifts, talents and strengths, we won't express our utter dependence on Him by praying. If we think we will be effective in ministry with our eloquent preaching, our charismatic personalities, our knowledge, our organizational skills, or whatever natural gifts and talents we have, we won't feel the desperate need to pray because we are not dependent on God.
We need to get busy falling on our knees in desperate dependency on God to bear fruit in our ministry!
3. Prayer is an expression of faith. We pray because we believe God hears our prayers and responds to them.

4. Prayer changes us:

"But we all, with unveiled face, BEHOLDING as in a mirror THE GLORY OF THE LORD, are beingTRANSFORMED into the same image from glory to glory, just as by the Spirit of the Lord."
(2 Cor 3:18)

As we enter the presence of God in prayer and encounter Him, we are transformed by His Spirit from glory to glory. Prayer changes us in many ways:

A. It changes our MOTIVES, to be motivated by love for the Lord , as we grasp a revelation of His love for us, in His Word and in prayer:
"May be able to comprehend with all the saints what is the width and length and depth and height— TO KNOW THE LOVE OF CHRIST which passes knowledge; that you may be filled with all the fullness of God." (Ephesians 3:18-19)
B. It changes our PRIORITIES:
"But SEEK FIRST THE KINGDOM OF GOD and His righteousness, and all these things shall be added to you."(Matthew 6:33)

Jesus taught us to pray in that order:

"'Our Father in heaven, hallowed be your name, your kingdom come, your will be done on earth as it is in heaven. Give us today our daily bread. And forgive us our debts, as we also have forgiven our debtors. And lead us not into temptation, but deliver us from the evil one."
(Matthew 6: 9-13)
This means our highest desire which we would express in prayer should be that the Lord's name would be magnified in our eyes and in the eyes of others as they get saved, and that He reigns completely in our hearts and in the hearts of others as His kingdom expands on earth and others get saved, and that His will would be done on earth, that all His purposes be fulfilled on earth as it is in heaven. Prayer transforms us from glory to glory, to grow out of our self-centeredness, to live for the Lord, not for ourselves. To be transformed into His image, to want what He wants, to love what He loves, and to think what He thinks.
C. It opens our eyes to see the will of God. We hear the leading of the Holy Spirit:
"While they were worshiping the Lord and fasting, the Holy Spirit said, "Set apart for me Barnabas and Saul for the work to which I have called them." (Acts 13:2)
If we are too busy doing ministry and not praying, we will not hear His voice. We must listen to the Holy Spirit on our knees in prayer.

5. Prayer OPENS THE GATES OF HEAVEN:
"Oh, that You would rend the heavens! That You would come down! That the mountains might shake at Your presence—As fire burns brushwood,As fire causes water to boil—To make Your name known to Your adversaries, That the nations may tremble at Your presence!"
(Isaiah 64:1,2)
"Now, Lord, look on their threats, and grant to Your servants that with all boldness they may speak Your word, by stretching out Your hand to heal, and that signs and wonders may be done through the name of Your holy Servant Jesus." And when they had prayed, the place where they were assembled together was shaken; and they were all filled with the Holy Spirit, and they spoke the word of God with boldness." (Acts 4:29-31)

God hears and answers ALL PRAYER that are according to His will!
6. How to Pray for the lost:
Moses prayer for His people:
"Yet now, if You will forgive their sin—but if not, I pray, blot me out of Your book which You have written."(Exodus 32:32)
Jeremiah's prayer for His people:
"Oh, that my head were waters, And my eyes a fountain of tears, that I might weep day and night For the slain of the daughter of my people!" (Jeremiah 9:1)
Paul's prayer for His people:
"I have great sorrow and continual grief in my heart. For I could wish that I myself were accursed from Christ for my brethren, my countrymen according to the flesh, who are Israelites, to whom pertain the adoption, the glory, the covenants.." (Romans 9:2-4)
John Knox's prayer for His people:
"GIVE ME SCOTLAND OR I DIE!"
"God does not answer prayer. He answers desperate prayer."
Leonard Ravenhill
Are we prepared to pray for Cape Cod with such desperation?

**************************************************

Dr. Rev. Dr. Sameh Maurice
Senior Pastor of Kasr El Dobara Evangelical Church
Dr. Rev. Sameh Maurice is the senior pastor of Kasr El Dobara Evangelical Church, the largest evangelical church in the Middle East and the largest Arabic speaking church in the world.
A former prominent surgeon, Dr. Sameh Maurice was always involved in ministry through his medical career. In 1988, he was fully persuaded that full-time ministry was God's call upon his life. He led his church to pray for Egypt since the early 1980s with the focus of a unified Egyptian church always on his mind. His heart is for local churches revival that springs with an overflow that prepares the way for a nationwide Harvest in Egypt.
* Bet El Wadi, was a dream adopted by Rev Sameh who always imagined the establishment of a commodious social services center. Construction started in the year 2000. Bet El Wadi is now hosting major evangelical, sports and training events, as well as worship conferences.
* In 2000, he pioneered the sports ministry in Egypt and the Middle East, as an effective ministry tool.
* In 2008, Rev Sameh developed the School of Christ teaching series which is aired on Christian channels and social media networks engaging millions in the Arab World, Europe, Australia, and the U.S. School of Christ teaching series is now translated into sixteen different languages upon the request of many followers.
* With the advent of the 2011 Egyptian revolution, Rev Sameh opened the church to be a field hospital to the wounded revolutionists flowing from Tahrir square, the heart of the revolution and the place where the church resisdes.
* In 2016, Rev Sameh established the "Days of Harvest" church planting movement in Egypt. With the vision of being a church in a mission towards other churches to assist them in mobile evangelism, discipleship, prayer and leadership training.
* In the same year, Rev. Sameh received an Honorary Doctorate from Nyack College, in recognition of his dedicated service to enhance the spirit and medical needs for the community.
* In 2017, many home cell-groups started to grow under his personal supervision. New churches are now planted in several areas in Cairo, the Capital of Egypt.
* Rev Sameh wrote two books on spiritual foundations and one book for married couples.
* Rev. Sameh is a Co-founder of the Global Kingdom Partnership Network. A global network of pastors who are like minded learning together, growing together and working together to enlarge the kingdom of God in our generation.
Rev Sameh is married to Dr. Imane Kheir and has three sons and three grandchildren.


* ***********************************************




back