Help For This Broken Nation
by Ed de la Cour
on June 20, 2020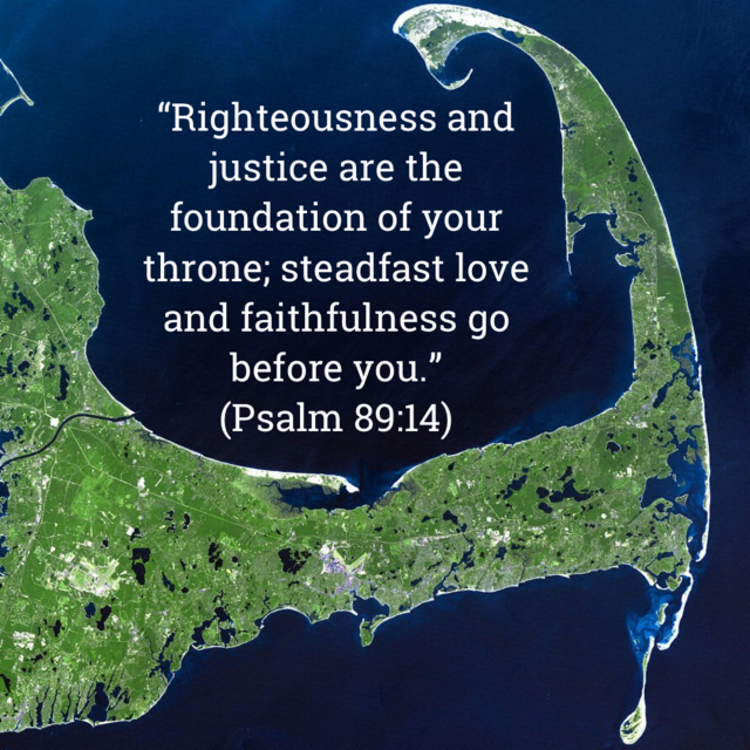 One of the nice parts of living abroad is that you gain a fresh perspective on your own country. Norway is by no means a perfect nation; they have their own very real issues with racism. Much like here in America, it's hard for them to see their racism as wrong; it's just the way it is. So, we got to see with fresh eyes. When you read God's Word, if you aren't too quick to overlay your own preconceived notions, you can gain God's perspective. I pray God will help us to that today.
I am so glad God has given us strong guidance in His word. Every day, when we open our Bibles, we read, we consume, we feed on that wisdom of God, that strong guidance. If we are serious about our relationship with the Lord, every day we are asking Him to live in us in such a way that we are changed by His presence. We're also asking that the people who are around us are also transformed. Our own transformation along with the same life changing result of meeting Jesus Christ in people all around us would be such a blessing because we are living in an incredibly messed-up world. We are desperate for God's wisdom. How are we supposed to make sense of all of that we see happening around us? We have this pandemic, racial and civil unrest, and all of that is packed into a poisonous atmosphere of political grandstanding. How are we supposed to react to all that we are seeing? How are we to behave? And most importantly, how are we to make a difference in our world, or are all our efforts for nothing?
Almost all of us have the feeling there's not much we can do to help in this present crisis, whether we are speaking of race relations, living responsibly in a pandemic, or keeping civil thoughts in our heads. We are only an insignificant group of people in a tiny church in a small corner of the world. This spring as I read
Psalm 72
, God spoke to me in a way that was different from the ways I had previously understood the psalm. I was struck with the power and relevance of the psalm for today. The Bible says the psalm is attributed to Solomon. It is a prayer to God offered on behalf of the king, and it's especially for a king who is aware of his dependence on God. He yearns for godly wisdom. He desires a long and prosperous reign. Even though the psalm was written some 3,000 years ago, the king's aspirations are not unlike our own, his desires are similar, and his heart cry resonates with my heart. That is not unreasonable because we are all children of the Heavenly King. Therefore, I want us take these truths to heart as being intended not simply for the political leadership of a country, but also directed toward the way you and I live in that country.
A number of themes arise in the psalm and we'll consider several of them as we seek to be a help to this very broken and divided nation in which we find ourselves living today.
There is a cry for justice in this psalm. Everywhere we look around our world we see there are broken political systems. There is injustice, oppression of minorities, hopelessness and despair. The cry for justice has been welling up in the hearts of oppressed people throughout history. Think of Israel enslaved in Egypt. The Bible says their cries reached to God and He remembered His covenant with them. And so today, the godly person will be sensitive to that cry.
We also will pray for a
"love of justice,"
even as Solomon prayed in verse 1. Our living situation is mirrored all over the world, since humans everywhere are united and one in their love for sin and self. Our culture upholds and elevates those who are concerned only for me and my own. We are a materialistic, selfish and greedy people. Loving justice is completely opposite to all the negative power that flows in the human heart, but the love of justice is a theme that resounds throughout the Word of God. It is not only the desire to see justice upheld in courts of law, but for God's people, who truly are the real leaders in any land, to seek after the justice of heaven.
In
Amos 5:24
, the prophet's cried out for justice:
"But let justice roll on like a river,
righteousness like a never-failing stream!"
This is a biblical theme that also flows through Scripture. God would ask us to make Solomon's prayer our prayer.
What concerns God, what breaks His heart must be found in our own hearts. The substance of dealing with justice also needs to be found in our business behaviors and in our relationships with the people we meet every day. Only a child of God can bring that perspective to life. Consequently, more than anyone, you and I are uniquely qualified to bring the values of the Kingdom of God into Bourne, Falmouth, Sandwich, Mashpee, and Wareham. We are qualified because you and I are followers of Jesus, who is the King of Kings. For that reason alone, we are leaders in our community. Everyone else is running around without a clue as to what to do and how to live. The child of God knows the God of heaven. Justice for the poor, compassion for the downtrodden, hope for the children, and peace to the broken – those will be the hallmarks of the ministry of the Church of Jesus that will have an effect on any community.
Another theme in
Psalm 72
concerns the treatment of the poor. The way the poor are treated is a barometer of the righteousness of any government. The poor are defended, the oppressed are helped, those who are most vulnerable – whether they are the unborn, small children, the elderly – and that means the people who did the oppressing of those vulnerable ones are opposed and even crushed. You'll notice in verse 4, that the crushing of oppressors is one of the subjects of this prayer. The righteous do not fool around with the value of the lives they defend before the Throne of God.
Every Christian, every child of God, no matter how old or young, is a leader. You are a person of influence. Those around you are blessed because you are there with them. God intends to bless them through you. Recognize that you are an influence and you are having influence. Influence is a very active component in the life of any leader. You cannot lead from your couch and your life cannot be a blessing if you are uninvolved in the lives of others.
I have come to see that God wants us to read and receive this psalm in a manner that is quite different from the way we are used to seeing it. We need to broaden the context of our understanding so the object of our prayer is not a distant leader of our government, some king or prime minister, or president, who we do not know and have never met. By broadening the context, we can see it is you and I who need God to answer this prayer in our lives. We are the ones called by God to exert Kingdom influence in the town in which we live, in our neighborhood, and on our street.
Oh God, give us Your love for justice! Give us Your heart of compassion! We can minister for the Kingdom of God right here. We don't have to travel to a faraway land to be a Christian or to serve God. In fact, if we cannot live for Jesus right here and right now, we will not have the spiritual strength to be able to serve Him someplace else.
In our national government or in our state or local governments today, we really do not see a great love for justice or compassion. Our political leaders are only sinful people themselves. They are overwhelmed with the task of running governments with limited resources, where needs are prioritized according to their political importance, and political importance is based on money. God's justice is the missing element in our political and national life today. We have protestors in the streets seeking justice – and they should – but singing songs, carrying signs, and shouting slogans will not lead to the meaningful change that is needed. Why? Our society does not recognize its own hunger and thirst for the God who gave birth to that river of justice that flows from the throne of God. That recognition is missing because those who know God are largely missing from the conversation. Where are those who demonstrate godly character , whose God and whose presence will bring true and eternal justice? We don't see many Martin Luther King Jr's living for Jesus and for the poor today. Verse 14 speaks to this need by declaring,
"He will redeem them from oppression and violence, for their lives are precious to him."
Did you hear that? Whoever you are, whatever your race, whatever your language, your ethnicity, your background, or your gender, your life matters to God. Your life also matters to the godly. Your life will matter to godly people who have authority to rule justly.
Those who are poor need to be treated fairly, but they also need to be defended. Corporations have vast battalions of lawyers while the poor have Legal Aid. How does that promote justice? If the oppressors have their way, the poor will be crushed with no one to prevent it. But God says in verse 4 the oppressors are the ones who should fear the crushing!
Godly justice and righteousness are needed, not only for us, not only for our children and our children's children, but for the rest of our community who live every day in the shadow of being diminished and dehumanized by poverty and racism. God knows there will always be people who are poor, but that doesn't mean millions of people must be driven into servitude and economic slavery and then set aside to be seen as "less than" by everyone else. That is not the intent of God's Kingdom.
Given the current crisis, and all the other crises that are arising, the child of God will want to make this psalm a personal prayer. It will become for us a GPS map detailing the route our community and our nation can take to come into a place of righteousness and justice, rest and the peace, the shalom of God.
Since it is stated a number of times in this psalm alone, we know that God's concern for the poor and oppressed and downtrodden is real and not poetic. How can this be addressed? In every place that we come into contact with our community we must bring godly leadership to bear. When we interact with others, let our attitudes reflect our walk with Jesus. Let our words and actions reflect those values. We've been learning about Biblical principles all our Christian lives. Now in our homes, in our local town meetings, in state and federal offices, we have the opportunity to act on those values and to have the influence God has called us to know and to employ. If we fail to exert godly influence, it will mean no one is helped. Since God has called us into the ministry of reconciliation, of being ambassadors of Jesus Christ, we cannot allow ourselves to fail in the calling we've received.
The righteous ruler, the godly Christian man or woman who takes his responsibilities to his community seriously, will hear the cry of the poor and act to rescue them. She will help those who are oppressed who have no one to help them. He will feel pity and identify personally with the weak and the needy. She will see a personal responsibility to rescue them. He will save them from those who oppress them and commit acts of violence against them because their lives are precious to him and to God.
There are consequences to godly leadership found in
Psalm 72
that can be clearly seen. When the poor are treated fairly, God blesses. The blessing of God may well be financial, but the land will yield prosperity for all. The psalm concludes with the sure, confident and joyful hope that everyone will fear God always and forever. When justice does flow, there is a flourishing and a prosperity that comes to the land as God happily blesses those whose lives honor Him.
The Christian helps by praying. This psalm is a prayer. It is not a stump speech. It is not declaration delivered at the barricades of rebellion; it's a prayer. It is a humble recognition that God is the Author of reconciliation. God is the giver of hope. Anyone can march and sing and shout and demonstrate. But only the Christian can help by interceding, by seeking God for His Kingdom purposes. Only the Christian knows the hope that Jesus brings to the heart and soul of the downtrodden.
The Christian also helps by adopting the same personal behaviors for which he has been praying the leader will be given by God. Because you and I are the spiritual leaders of this area, where we live, where we work, where we study, where we play are all the places where we get to exert the influence of God's presence and His Kingdom. That is our privilege.
Throughout the psalm, Solomon speaks of the real consequences of godly leadership. We can apply all of this to our own lives at home, in the workplace, as well as in the community. The Bible says when the poor are treated fairly, God will bless the home, the community, the nation. The blessings of God are upon the righteous king, upon the nation he rules, and are enumerated throughout the psalm, because surely,
"Blessed is the nation whose God is the Lord."
(
Psalm 33: 12
). God does not want us to think all this is just poetry or pretty language lacking in substance. Not only will the godly flourish, but the nation will prosper. The enemies of such a land will fall before the ruler in verse 9. Other world leaders will recognize God's hand of blessing on him and upon his country. There will be abundance in the land. Throughout the Bible, the blessing of abundance is never seen as an opportunity to h oard or to keep for ourselves. Instead, in verse 17 we read,
"all nations (will) be blessed through him."
As Christians, followers of Jesus, our job isn't just to receive blessings, but to help others come into the blessings of God.
back